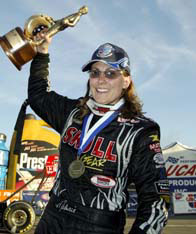 I root for the ladies in our sport, and in all motorsports. I think that there is a bond of sorts that being the minority in motorsports creates as a female driver. No matter what level, many women are the subconscious victim of prejudice of gender… despite the fact that the racecar knows nothing of what sex pilots it down the track surface. We have all faced these prejudices as women trying to advance, trying to gain the same respect for our driving abilities as our male counterparts seem to earn more readily. I'm elated that Melanie Troxel took the first win of the season in Top Fuel. There have been others before her, but it reinforces Melanie's talent and ability again to the public. She has a top-notch win-capable team, and she executed as a driver. That combination is what it takes to get the win. But it wasn't always that way.
I was a bit saddened to read a recent interview with Troxel, where she completely downplayed her gender to the press, adding that fellow female racers "…they're just competitors." Now, I understand her argument. Female drivers want to be noticed for their driving talent, and not for their gender alone. I can appreciate her goals when she says: "I think we've all worked so hard at being accepted as racers and not (have it) based on the fact that we're female, that we want to be taken seriously just as the other competitors out there, it kind of goes against that to then turn and make (their gender) such a big issue. It's not a huge rivalry where we're all out to get each other, but I don't think we go out of our way to make any special bond." But in reality, it simply doesn't work that way.
Troxel, herself, has felt this. The writer points out for us that she sat on the backburner with Prudhomme for the most 2005 season, and was unsure of her career progression. She had proven her talent with a driving stint for Schumacher in 2000, yet still had not secured a full time ride, until Schumacher picked her up again at the end of 2005. "Melanie is a unique personality, a beautiful lady that's a talented driver, and she needs to be out here racing. She's always been a good driver and does a good job," Schumacher said of his decision to hire Troxel. Her win this weekend, as a relatively new member of the Schumacher team, emphasizes her talent. The respect she has earned as a driver (gender aside) is undeniable. But I feel she has too quickly forgotten the struggles that she, and all other women in the sport have faced (and sometimes continue to face) in their careers. Why not support and mentor the very cause that you took part in for so many years instead of refuting it? Don't get me wrong, I do not agree with exploiting your sex to further your career, but I also have pride in the very thing that makes us unique, and the struggles we each overcome to get there.
I hope that when I realize my dream of driving in Top Fuel, I will be able to actively champion the cause of women in motorsports. I would like nothing more than to help other women achieve their goals, as I have fought and been blessed enough to pursue over the years myself.