Today's #TBT is a fun story from back in 2003.
Horsepower and Prom Dresses
My little sister Lauren was going to her high school Prom, and wanted to make a cool entrance.   Rather than a played-out limo, I thought it would be way cooler to make a Horsepower & Heels style entrance- a RACECAR LIMO.   I decided to surprise her by picking her up and being her chauffeur in my Drag Radial foxbody coupe.   I mean, really, what would be more memorable than making an entrance in a 1600 horsepower turbocharged Drag Radial race car?
So, I put on my best chauffeur outfit: all-black with a little black drivers cap (not shown) and made the drive over to pick her up.   Still 100% streetable, I was even able to take advantage of the pin-removable door bars on the roll-cage to make it a little more "graceful" for her to get in and out in her gown.  She was pretty stoked!
A Powerful Entrance
We make the drive over to the high school, and I pull up to the entrance of the dance.   There were people arriving and trying to make their own entrances in limos, but a loud, flashy race car with a parachute hanging off the back quickly stole that show.   I revv'd it a little as we pulled up, threw it in park, and jumped out to open her door and help her exit.    By now, most of the guys in her class had abandoned their dates to come over and look.  Having heard the commotion from inside, a few were even coming out of the dance to check it out.    There were lots of "Whoas…" and "Way cools" being thrown around, and Lauren was smiling from ear-to-ear.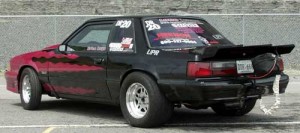 I arrived a little early to pick her up, and was waiting in the parking lot.   The police officer assigned to the event walked over to me, and jokingly pulled out his citation book:
License to drive this thing and Insurance, ma'am," he said with a laugh.   "You know, I could ticket you for having obstructed license plate, bald tires, exhaust…. but this is just too cool, so I'm going to let you slide."
We chatted a little about what was done to the car, where I raced, and how many girls inside that dance were probably furious that their dates were still gawking at the cool race car outside.
After a little, Lauren made her way back outside to leave, to a growing crowd ready to watch her departure.    I did my best to make an exit without getting into any trouble with my new officer friend watching intently from the parking lot.
Man, I wish there was Youtube back then….  I am pretty sure my sister had the best entrance/exit of the night to Prom that year.
What fun ways have you incorporated your love for racing into normal day-to-day life?