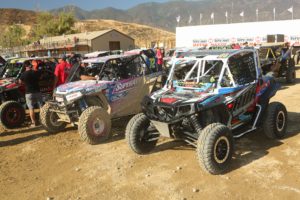 Mechanical issues sideline Katie Vernola in round 9 of the WORCS series UTV race at Glen Helen Raceway in Devore, CA.   The UTV offroad racer suffered bad luck and mechanical issues that kept her from the podium finish she was working towards.
She began the first race looking good, but her luck quickly turned for the worse when she suffered some mechanical issues that took her out of the race.
I got a good start, but was hit going into turn one still managing to hold second going into the second turn of the course. After we came around the turn all the sudden I started hearing what sounded like a bucket of bolts rattling and had no power, so I called my pit and let them know," explained Vernola.
A quick response from her pit crew enabled Vernola to rebound for race number two.
 Luckily Pete and his crew were able to work on the car between races."
Vernola regrouped and returned for the pro race, putting in her best efforts.   An on course incident where fellow competitor Jared Blitz hit Vernola from behind multiple times throughout the race, ended up causing damage to her exhaust and rear bumper.   Despite the damage and stress, Vernola was able to finish the race in the No. 12 position out of 17 in the Pro STX Class.
I fought through the challenging course with no front wheel drive and no exhaust," stated Vernola.
Though she did not have the finish she was looking for, Vernola stays full of positivity and thankful for any opportunity to get out on the track.
I am trying to get more seat time. I am not doing well in the points this year but the more seat time the better."
Her next race will be at the Camp Lejeune Support our Troops Terracross in Jacksonville, NC October 1-2.  Vernola will continue her training, improving her program, and looking for redemption leading into the event.