One of the great things about racing, is that it has allowed me to travel the country, one racetrack at a time. I tried to sit down and think of all the tracks I've been to, which isn't an easy task. Sad part is, that although I've been all over the U.S., I couldn't tell you much about the cities I've visited BESIDES which track surfaces are good and how the pit parking was.
The list that I can remember is about 40+ right now, including a few over the ocean in Puerto Rico. I'm hoping to add to it as the years go by. (or as I can remember where else I've been!)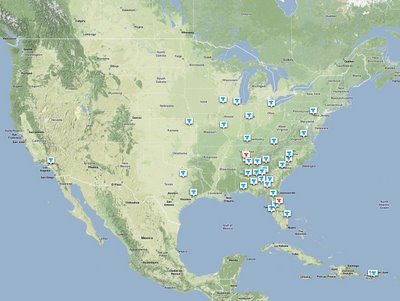 US 19 Dragway — Albany, GA
Goodtimes Drag Strip — Baileyton, AL
Houston Motorsports Park — Baytown, TX
Beechbend Raceway — Bowling Green, KY
Bradenton Motorsports Park — Bradenton, FL
Bristol Dragstrip — Bristol, TN
National Trails Raceway — Columbus, OH
Atlanta Dragway — Commerce, GA
One Way Dragway — Cottonwood, AL
Cordova Dragway Park — Cordova, IL
Southeastern Int'l Raceway — Dallas, GA
Darlington Int'l Dragway — Darlington, SC
Dothan Dragway — Dothan, AL
Douglas Drag Strip — Douglas, GA
Texas Motorplex– Ennis, TX
Gainesville Raceway Park — Gainesville, FL
Huntsville Dragway — Harvest, AL
Emerald Coast Dragway — Holt, FL
O'Reilly Motorsports Park — Indianapolis, IN
Carolina Dragway — Jackson, SC
Route 66 Raceway — Joliet, IL
Lakeland Motorsports Park — Lakeland, FL
The Strip at Las Vegas Motor Speedway — Las Vegas, NV
Twiggs Co. Raceway — Macon, GA
Gateway International Raceway — Madison, IL
Montgomery Motorsports Park — Montgomery, AL
Summit Raceway Park — Norwalk, OH
Orangeburg Dragstrip — Orangeburg, SC
Orlando Speed World — Orlando, FL
Phenix Motorsport Park — Phenix City, AL
Pomona Raceway — Pomona, CA
Ponce International Raceway — Ponce, Puerto Rico
Maple Grove Raceway — Reading, PA
Silver Dollar Raceway — Reynolds, GA
Old Dominion Raceway — Richmond, VA
Rockingham Dragway — Rockingham, NC
Puerto Rico International Speedway — Salinas, Puerto Rico
Alabama International Raceway — Steele, AL
Heartland Motorsports Park — Topeka, KS
South Georgia Motorsports Park — Valdosta, GA
Palm Beach International Raceway — West Palm, FL
I don't even want to think how many road miles that adds up to!
My favorites are Bristol's Thunder Valley for the beautiful scenery and awesome atmosphere as the cars race through the mountain valley, and Norwalk's Summit Raceway Park because of the midway and great hospitality (and because it was my first 6 sec, 200mph pass there). The ultimate package has to be Ponce Int'l Raceway in Puerto Rico, its a drag racer's dream! More on that in another blog post though…
I'm hoping to add the rest of the NHRA tour onto my list at some point (in the not-so-distant future).