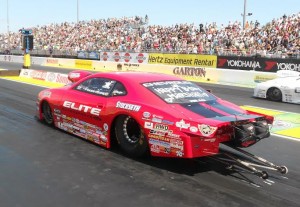 Erica Enders and her Elite Motorsports team are more determined than ever after a second-round exit in the 28th Annual NHRA Sonoma Nationals on Sunday at Sonoma Raceway.   It was a first appearance for her Elite team at Sonoma Raceway, having been one of the events the team had sat out in 2014 (Enders had last raced at Sonoma in 2012).    Still, she qualified No. 9 and advanced to the second round before bowing out to No. 1 qualifier and eventual race winner Chris McGaha.
 "We've got nothing to be ashamed of," Enders said. "We're going to load up and go to the next race. My guys are the most determined bunch I've ever met. Right now our day is over, but where are all three of my crew chiefs (Rick and Rickie Jones and Mark Ingersoll) and my team owner (Richard Freeman)? They're in the lounge, going over notes and trying to figure out how to get better.  You can bet your bottom dollar that we'll be back, and we're just going to use this to fuel our fire."
Enders and her team have a knack for digging deep and overcoming adversity. Earlier this year, they turned a first round loss in Gainesville into a win with the K&N Horsepower Challenge in Charlotte and the national event win in Las Vegas and then another win in Houston.    And after losing in the first round in Englishtown, she raced to the semifinals in Epping, and then the winner's circle in Bristol. Enders also lost in the first round in Norwalk, Ohio, before going to two consecutive semifinals in Chicago and Denver.
In Sonoma, her 100th consecutive race, Enders faced No. 8 qualifier Shane Gray in the first round, and she left first with a .017-second reaction time and held off Gray with a pass of 6.531 seconds at 211.93 mph. Gray's run was slightly better, 6.530 at 212.39 mph, but Enders won on a holeshot.
"There have been plenty of days when my team has carried me," Enders said. "I wish I could've carried them further this weekend. My crew chief always tells me, 'If you can be .020 all day on Sunday, there's no reason why we shouldn't be able to go to the winner's circle with the people that we have and the equipment that we have.' Today just wasn't our day."
Enders also left first on McGaha, .020 to .029, but McGaha made a pass of 6.514 seconds at 212.13 mph to run down Enders' 6.529 at 211.93 mph.