After the rain drenched day on Friday, all of us were ready for some Florida sunshine. When I woke up Saturday morning, the sun was just starting to poke through the clouds. It looked a little iffy with the overcast clouds looming most of the morning, but by noon, the sun was out in all its glory.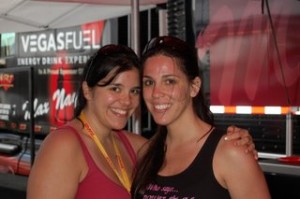 There is nothing more exciting than getting your first whiff of nitro for the year. Frankie had us all hooked up with hospitality passes at the
Kalitta
camp courtesey of DHL, so we had a little VIP treatment with the team. Its also great to be able to get in from out of the sun at times as well.
Debbie, my Horsepower & Heels partner in crime, showed up for a bit with her family, but since our seats were not located together, we lost each other early in the day and never could hook back up. Not sure what it is about all that broadcast equipment, but when ESPN was filming, no cell phones were working.
The 1st
Jeg's Pro Mod Challenge
event of the year kicks off in Gainesville as well, so of course I was excited to cheer on Mike Ashley's return to Pro Mod. His first round run had him in #16 position entering the last attempt, and he was bumped out early in the round. We were all on pins and needles as he made his attempt to get into the show, but in grand
Gotham City
style, they moved straight to the pole with a 5.94! YAY Gotham!
After the final round of qualifying, we headed over to
Max Naylor's Vegas Fuel
energy pit party. Max was kind enough to host the
Nitromater.com
meet-up at the Gators, and my sister and I had a great time meeting all the people who showed up from the Mater clan. They are all great people!
I really love what Max is able to do for VegasFuel. He's got a great program together, and makes his sponsor proud! We did get to try the new Energy drink, and it tastes great!