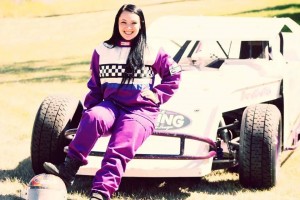 Racing has always been a part of Tiana Berkeley's family life.   She spent her childhood years at the racetrack watching her father race,  and he grew up much the same watching his father race before him.   But when she grew a little older, she surprised her father by not only taking an interest in the sport, but jumping behind the wheel and getting down and dirty.
"I have not had any [formal] training, my dad has been my coach but I taught myself how to get around the track. It was a learning experience and basically trial and error for me."
A Colville, Washington native, Tiana Berkeley has been racing for 5 years, starting in the four cylinder ranks in 2011.   She earned Rookie of the Year at Northport Raceway in the class, and went on to become the first female to win a championship in the Four Cylinder class for 2012.   In 2013, she again would win the championship in the Four Cylinder class, this time at Eagle Track Raceway in Republic, WA.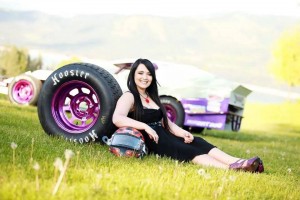 After 3 years dominating the four cylinder class, Tiana Berkeley would move up to the Modified ranks, competing under the No. 45 in purple IMCA a-mod she says is a tribute to her late grandfathers.
"My car number is 45, because that is the number my Grandpa Jerry used to run when he raced. Most of the car is purple because that is the color for pancreatic cancer awareness and my Grandpa Brad passed away from it. They both passed in 2006 and I wanted the car to be a tribute to them due to the fact that they both loved racing."
She would place third in her first year at Eagle Track Raceway in 2014 and go on to win the championship this season, remaining the first and only female to have won the championship in track history.
For Tiana, her last 5 years have filled with great experiences with the family.   She graduated high school one year early to work in the family owned business, Colville Printing as a Graphic Designer.  With her dad handling all of the mechanical aspects of the car ('he's the best mechanic a girl could ask for' she says), Tiana is able to focus on driving, learning the ropes quickly as she moves up the ranks.   But she wasn't as well received by all of her fellow racers, adding that she encountered some unexpected animosity.
"People I have known for my entire life have treated me differently since I have began racing with and against them, and beating them makes it even worse. That has been tough since I am a very caring person and I wouldn't expect it from them."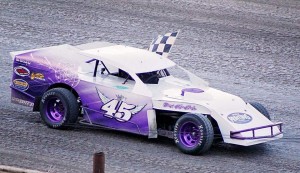 Tiana Berkeley says she's dealt with lots of tough criticism from those who believe that women should be behind the wheel of a racecar.   But Tiana doesn't want to be viewed any differently than any other driver.
"I always treat everyone the same. I use sportsmanship and hope that they will eventually accept that I won't be knocked down due to their criticism."
Her toughest critic though has always been herself.   Wanting to improve and do better, she tends to beat herself up a lot, and can be very hard on herself after a tough event.    But for Tiana, she knows that no matter the situation, she has to persevere.
"I learned that someone is always going to have something negative to say, no matter what the situation. Don't let it get to your head. Keep pushing through and strive to reach your goals. Let the negativity be your motivation to always be the best that you can be. Racing is not just a male dominate sport, women can be successful too."
Tiana plans to travel with the car and learn from other great drivers around the northwest, and is looking forward to learning how to drive on different surfaces and track conditions with more cars.