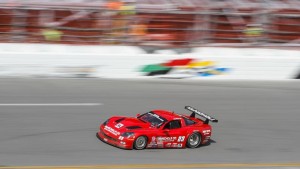 Professional road racer, Amy Ruman, added her name to the history books as the first female Trans Am champion in the history of the sport. Her win at Daytona International Speedway, in the final race of the 11-event season, comes as her eighth in 2015 and the 13th since her Trans Am career began in 2005.
Amy Ruman Clinches TA Championship
Amy's TA class Chevrolet Corvette sat in second place on the grid, but all she needed was a green flag on the race and she would have officially clinched the championship. That didn't stop her though, after running in the top five with multiple lead changes throughout the majority of the 75 minute race, and managing the traffic from the back of the pack, Amy passed former (2014) champ, Doug Peterson, and took the lead with only six laps to go. Taking it easy was definitely not in her plans!
"Traffic is always an issue and can be a factor in our races. So I just tried to maintain composure and just run consistent lap times, and that got us the win. The car was set up strong" said Ruman.
Historic Firsts for Amy Ruman
That Saturday in her No. 23, McNichols' sponsored Trans Am car Amy set not one, but two records. She became the first female to claim a Trans Am championship with 345 points to Paul Fix's 311 and she also became the first female, solo-driver, to have an overall victory at Daytona International Speedway. This came just months after Ashley Freiburg's co-driving skills won her the IMSA race at Daytona placing her name as a first.  Although, Ruman isn't new to the history books –  in 2011 she became the first woman to win a Championship finale race in Trans Am.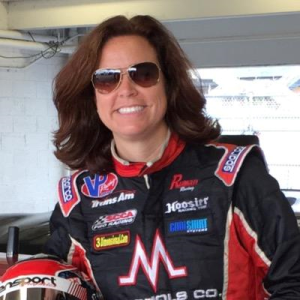 Amy has certainly worked her way into up the ranks with the help of her father, Bob Ruman, who is a 20 year veteran within the sport and series and also received support from the family run business, McNichols' Company.
"I think finally it all just gelled and came together. We have a really well-prepared car. We switched to PME motors; they've been strong for us all year and that was a great move. My dad has dialed in the setup on the car; we've had it for three or four years now. I think finally all the pieces of the puzzle came together, and we had a rally good year. I drove smart and we were there at the end when we needed to be. We had some absolutely dominant wins and some where we had to come from the back a few times. There was a little bit of everything, but it was just a fantastic year for us."
Amy was able to make a sometimes difficult and trying season into a great win for the team. I can assure you that this won't be the last we see from Amy Ruman or her team!