Me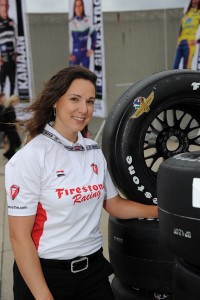 et Cara Adams, Senior Project Engineer of Race Tire Development for Firestone Racing, the exclusive tire manufacturer for the Verizon IndyCar Series.   On the track, she is responsible for the design and development of Firestone's tires for the oval circuits, including the Indianapolis 500, superspeedway and mile oval tracks.
Breaking Gearhead
I have always been fascinated by how things work. I liked to take things apart and put them back together… most of the time."
Cara grew up with a passion for dissecting and reassembling things around her.  The daughter of a high school science teacher, she was regularly surrounded by neighborhood science camps growing up.    Her grandfather, an engineer for NASA, was the inspiration that led her to pursue her Bachelors degree in Mechanical Engineering with a focus on vehicle dynamics from the University of Akron in Ohio.
While attending college, she would take an interest in Formula SAE (Society of Automotive Engineers), a program in which students design, build and race an open-wheeled race car.   Through this program, she attend ed a few Champ Car races in nearby Cleveland, Ohio.
I was so impressed by the engineering of these machines, I started going every year.   I remember being fascinated by the cars flying through the chicane in turns 9 and 10, watching the motion of the cars as the chassis reacted to braking, turning, and acceleration as the drivers navigated that tricky section of track.  I could have watched that for hours."
Her start in the program wasn't a glamorous one.   She began at the bottom, cleaning up the shop area.   From there, Cara began learning how to use a mill and lathe, machining small parts and becoming more engaged and useful around the shop.   She progressed to cutting and bending the tubes for the frame, using FEA to help design uprights and designing the safety systems that go in the car, like the impact crush zones and various electronics.
Away from school, Cara would again encounter the racing bug as a passenger in a friend's supercharged Mustang.   She was instantly hooked, and decided she wanted to own a car that fast.
I saved up, bought a car that needed some work, and decided to learn how to make it fast.  Since then, I've worked to improve upon just about every area of that car."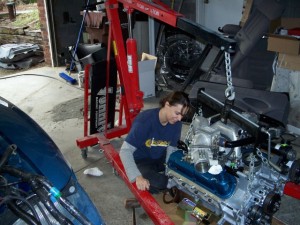 Her first engine rebuild would come on a Honda CBR F3.   Learning the inner workings of the engine was fascinating to Adams.  She would wrench away on her own cars, and then take them to local drag strips, auto-cross events, or road courses to test  her work and results.
From that moment on, I knew I wanted to work in the automotive field, and that I would love an opportunity to work in racing.   I wanted this to become a full time job.  Seeing the results of my own hobbies gave me confidence to work in racing for a living.  I am very blessed to do this for a living."
Turning Passion into Paychecks
Her first entry into the profession would come in 2003, working with Bridgestone Americas' Tire/Vehicle Dynamics team.   Working with the Formula SAE team, there wasn't much time for "typical" college activities like eating, sleeping, doing homework or having a social life.  Every spare moment was spent down in the shop machining new parts or working on new designs.    She gained experience working during this time, but had her heart set on working with the Firestone Racing team.  Breaking into a full-time career in racing is difficult regardless of the role, but Cara was determined to make her dreams a reality.
I met with the head of race tire development, and asked him what skills and traits he wanted to see in a race tire engineer.  I told him my goal was to work for the Firestone Racing team, asked him for advice and took everything he said to heart.  I picked up a couple of Vehicle Dynamics textbooks, and also and started teaching myself how to code in the MATLAB programming language, as that was not one of my strengths at the time.  I was determined to go into the interview and give them no choice but to hire me as the next race tire engineer."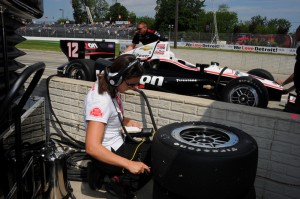 Taking heed of that advice, Cara would remain adamant about her ambitions and soak up as much knowledge and experience as she could.   She would learn from mentors that would help further her goal of breaking into the racing world.
I learned most of what I know from my first manager, Page Mader, and our lead engineer, Dale Harrigle (Dale is now the Chief Engineer of Bridgestone Americas Motorsports).  It is unbelievable the work and knowledge that goes into designing these racing tires that withstand high loads and speeds of IndyCars.  At some tracks, the tires withstand speeds of more than 240 mph and the right rear tire can bear loads equivalent to the weight of a Honda Civic or a Chevrolet Cruze!"
Pestering her way into Racing
Her dream job didn't happen by accident, as Cara often credits herself as "pestering her way into racing".    In 2007, Cara strategically planned a trip to visit her younger sister, also an engineer who had just begun working for Boeing in Seattle.   The Champ Car Portland Grand Prix was also scheduled that week, so Cara reached out to the Firestone Racing team to volunteer for the group.
Since Portland was only three hours from her apartment, I told the group I'd come out and volunteer that weekend 'since I was there anyway.'  In reality, I chose that weekend to fly out in hopes I could work with the Firestone Racing team."
Her pestering paid off, when later that year she interviewed for and was hired on by the Race Tire Development team with the Firestone Racing brand, carrying primary responsibility in road and street course tires.
The Bumpy Road to Open Wheel
Having made her way into racing, her first official business trip would be to a tire test session at Homestead-Miami Speedway.  Assigned to work with drivers Marco Andretti and Danica Patrick, Cara had a busy week to get her feet wet in the sport.  Bad luck would strike, as Cara became ill before her trip, and would rupture her eardrum on the flight down, spending the night before the test in the emergency room.   Despite these setbacks, she would soldier on through the entire test, spending all day on pit lane learning about IndyCar and Firestone racing and getting feedback from the drivers about tire performance.
I found that the IndyCar community is a fantastic group of people- one of the reasons is that almost everyone that works in IndyCar does it because they want to be there.  This leads to a very focused, dedicated group of people in all ranks of the organization, be it a team, or supplier like Firestone."
The Firestone team travels to about 17 races per year, not including on-track testing, and Cara often feels that she spends more time with her IndyCar family than with her own family.  The height of this busy road life occurs during the month leading up to the Indianapolis 500, when the culmination of the Indianapolis Rookie Orientation Programs, the Indianapolis Motor Speedway road course open test, the Grand Prix of Indianapolis, and the Indy 500 practice sessions/qualifying /race  require Cara to live in the same hotel room for over a month.  Luckily, her husband loves racing too, and is more than willing to come out for a visit.
In addition to the on-track products, Cara oversees rain tire development and all of Firestone's racing force and moment testing (testing the tire and creating a model that teams can use in their vehicle simulations).
 I have the privilege of working for a fantastic company that respects its employees and I'm fortunate to work with a great team of people.  It is important to choose a company with values you respect.   Bridgestone creates a great collaborative environment that gives us the flexibility to be innovative while designing high-performance tires, whether they're on the race track, on the highway or in a farmer's field."
Experience and Inspiring Others
Though being among a smaller minority of women working in the male-dominated racing community makes you stick out just like any big difference in a large group, Cara insists that this diversity works to her advantage.
Instead of just being "the tire guy" (although I am still called that), people quickly learned to know me as Cara, the Tire Engineer and Force and Moment expert.  Having diversity among a group, whether gender, area of expertise or anything else, can lead to different ways of thinking about the same issue and can yield unique solutions to any challenges you may face.   A small minority of the 'old school' racers might initially be more skeptical of a female engineer in the paddock, but like everyone, you prove yourself by your performance.  Once they see your work ethic, talent, passion and ability to solve challenges, it doesn't matter whether you're male or female. Brown, black, white or purple – everyone respects results."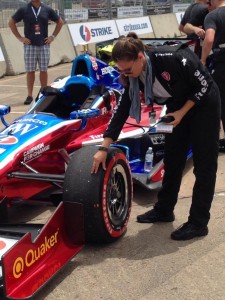 Cara has been able to use her career experience as a Race Tire Engineer to help introduce engineering to the younger generations, speaking to children of all ages about the importance of math and sciences and showing them the possibilities within the field of engineering.   She has fostered some fantastic mentoring relationships with young people.
As an engineer who is female working in a mostly male dominated sport, I hope to be a role model who inspires young girls to believe that being an engineer is a very attainable goal."
Future Goals
Going forward, the same goal that has propelled Adams thus far in her career continues to motivate and drive her: to be not just the best female engineer, but the best in her field.
I always have the same goal, regardless of my role: Be the best at what I do, provide engineering solutions to challenges no one has yet thought of, contribute to and/or lead a successful team.  More specifically for my job, my goals are: To make safe, consistent, innovative tires that go fast, and to provide excellent customer service to the IndyCar teams – listen to their feedback and use it to continuously improve the performance of our tires.  I don't want to be the best 'female engineer';  I want to be the best engineer, period!"
And for those who are wanting to pursue their dreams in the racing world, she offers:
Don't let anyone tell you what you can or can't do, what you are or aren't good at, or who you are.  If you have a goal, do everything in your power to accomplish it, and don't be timid if you run into obstacles.  It's important to have a good support system.  I have been blessed with a great network of people who know me and believe in me.  Having people who care about and support you, and provide you with genuine feedback is priceless.  If you don't have a mentor, reach out to someone you respect and ask for advice.  Having someone in your field with whom you can discuss your career, challenges, or simply use as a sounding board for ideas, will help you along the way. You may even give back as much as you get out of a good mentoring relationship.  And, if you have others that can learn from you, be a mentor for them."