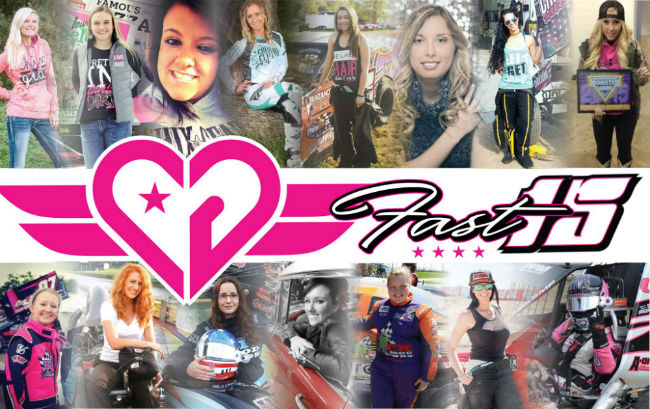 Chix Gear Racewear just announced their Chix Gear Fast 15 team for the 2016 season.   The annual contest selects 15 female racers onto the Chix Gear backed Fast 15 team   A total of 242 applications were received for the 2016 contest.
It was a very hard decision and there were SO many great applicants. There is an amazing amount of professionalism and talent in this group of 15." – Chix Gear Racewear
Follow the success of the Chix Gear Fast 15 team all season long on the new Chix Gear Fast 15 team Facebook page, so make sure to "LIKE" that page!
Chix Gear Fast 15 team
Jenna Johnson – Dirt Late Model, Iowa
McKenna Haase – Sprint Car, Iowa
Tara Longnecker – Bmod, Iowa
Megan Manshack – ATV, Ohio
Lexy VanZandt – BMod, Missouri
Kayli Barker – Asphalt Late Model, Nevada
Shayle Bade – Sprint Car, Nebraska
Brianna Mahon – Monster Truck, Illinois
Savannah Trantham – Sprint Car, Texas
Mandy Chick – Asphalt Late Model – Kansas
Ashley Strickland – Drag Racer, North Carolina
Ashley Capetta – Sprint Car, Pennsylvania
Bri Bandimere – Drag Racer, Colorado
Sarah Burgess – Off Road Truck, California
Skyler Allen – Micro Sprint Car, Kansas