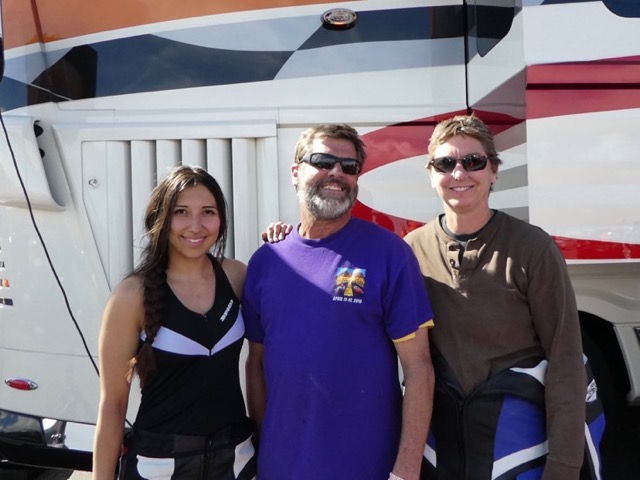 Kerry Alter Land Speed Racing teammates, Lisa Taylor and Loretta Flores, became the most recent members of three different 200 MPH Clubs at the Mojave Magnum speed event April 8-10 in Mojave, California. The event has separate speed clubs based on distance raced. The Mojave Mile is for 1-mile runs and the Mojave Magnum is for 1.5-mile runs.
Retired Scottsdale motorcycle officer and event rookie, Lisa Taylor, earned membership in the Mojave Mile 200 MPH Club with stout run of 215.7 mph on her Kerry Alter prepared Suzuki Hayabusa.  To top her new personal best one-mile speed, Taylor raced the same Hayabusa on the 1.5-mile course to a blistering new personal best 1.5-mile speed of 226 mph, earning her membership in the Mojave Magnum 225 MPH Club.
Loretta Flores, a 24-year old motorcycle technician from Tempe, set a new personal best top speed of 204.2 mph on Alter's 2015 Ducati 1299 Panigale, earning her membership into the Mojave Mile 200 MPH Club.  Flores top speed at last year's event as a rookie was 195.6 mph.
Kerry Alter Land Speed Racing was formed in 2008 by Phoenix-resident and 17-time land speed record holder, Kerry Alter. The team races three different bikes tuned by Alter, including a Suzuki Hayabusa, Ducatti 1299 Panigale and a BMW S 1000 RR.
"I can't begin to tell you how proud I am of both Lisa and Loretta for their outstanding performances at one of the fastest race courses on the West Coast. Both worked hard and smart to meet their objectives," said Kerry Alter, team owner and driver. "We set a lot of goals for this event and achieved all of a them. The bikes responded well to my tune-ups for both courses and we lucked out with the weather," added Alter, who did not race due to recovery from injuries from a non-racing accident.
The next Mojave Magnum event will be held October 8-9, 2016 at the Mojave Air & Space Port in Mojave, California.