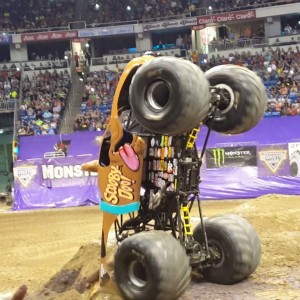 Nicole Johnson, the driver of the popular Scooby Doo Monster Jam truck, nabbed first place in the Wheelie and Donut competitions at the San Juan, Puerto Rico Monster Jam event held at the Coliseo de Puerto Rico on Friday, November 6.
"We took 1st in Wheelies and 1st in the Donut Competition last night! It helps having a dog that knows tricks!!!" — Nicole Johnson, Facebook
The event marked the first time that the Monster Jam series has visited the island of Puerto Rico.
Nicole Johnson made the jump from professional rock crawling competitions to Monster Jam in 2011, with more than 17 years of four wheeling experience under her belt in total.  The mom of two has driven the Tasmanian Devil in 2011, the Advanced Auto Grinder truck in 2012, and debuted the new Scooby Doo Monster Truck in 2013.
Source:  Nicole Johnson, Facebook |  Monster Jam