Welcome to our brand new Women in Motorsports & Automotive Career Spotlight Series! This new series is designed to give you a look at women working within the Motorsports, Powersports and Automotive industries. We will take a look at each featured role and how they navigated their career paths, their job duties and training, and other useful information to help aid and encourage those searching for a career path of their own.
Career Spotlight: Automotive Service Advisor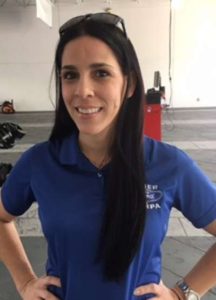 Name: Erica Ortiz
Position: Automotive Service Advisor
Current Company: Elder Ford of Tampa
Past Employers: Bill Curie Ford, TRC, Woody Anderson Ford, PESA, Columbus Ledger-Enquirer, Lugo Performance
Years in Profession: 15
Education/Training: General Business Administration, Ford Master Service Advisor Certification
Skill Sets Used: Automotive Diagnostic/Repair Theory, Customer Service, Management, Sales, Communication, Multitasking, Organization
Service Advisor | Job Description
Whether it is for basic routine service, or breakdowns and repairs, a Service Advisor's primary job is to coordinate an automotive customer's needs by acting as an intermediary between skilled technicians, manufacturer warranty requirements, and customers by translating and communicating highly technical repairs/complex solutions in an easy-to-comprehend presentation a customer can trust and understand.
Service Advisors work with customers to help them identify needs – what issues they may be having, what important maintenance they may need to protect their investments, and what solutions are available to them. They translate and communicate these needs with technicians to diagnose and repair their vehicles, ensure warranty claims/repair estimates are processed and presented accurately, prioritizing needs and requirements for repairs and preventative services.
Salary Ranges: Service Advisors compensation is typically commission only, ranging between $35,000 annually for entry-level advisors and can exceed $100,000 annually for motivated and seasoned professionals. Most dealerships and service facilities compensate based on parts/labor gross sales, a portion of which is often dictated/tied to a Customer Satisfaction Index (CSI) score requirement.
CSI is a metric of customer service adopted by most manufacturers to ensure that dealers are upholding their brand's values and customer loyalty to the franchise. Dealers are held accountable for this metric in both sales and service, and measured via direct feedback from surveys returned from active customers after a purchase/service visit. In turn, dealerships hold Service Advisors directly responsible for these scores, and pay is often reflected by their ability to maintain a CSI ranking of about 85% or greater.
Personal Experiences | Service Advisor – Erica Ortiz
How did you get your start in your career path?
For me, as a child, I always had a strong interest in everything automotive. Shortly after high school, I became fascinated by the motorsports community – and was searching for in-roads into the industry professionally. Just graduating, I had a burning desire to absorb everything I could about racing. I was particularly drawn to the mechanical side of things, wanting to understand what made cars "go", but having zero background or basis from which to learn.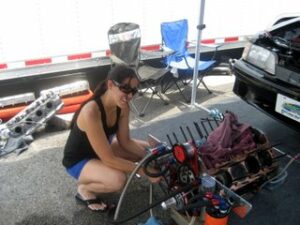 Searching for answers, I took to reading trade magazines, learning from every tech article I could and asking questions to anyone who would take the time to answer. This led to finding a mentor and eventually an employer in a local performance shop. I began just running errands, and hanging around to lend a hand where needed. Eventually, I was given the title of Office Manager, answering phones, questions, processing paperwork, ordering parts, and other office and clerical duties. In retrospect, despite my title at the time, this position was my first true Service Advisor experience.
Still drawn to the mechanical side, I spent evenings in the shop, hands-on and learning all I could about engine/tuning fundamentals. After some time, I confidently knew my way around an engine bay and performance. Diagnostics and engine performance were like riddles and puzzles waiting to be solved, a task I particularly enjoyed. Before long, I was testing and applying this newfound knowledge behind the wheel, behind a torque wrench, and on the dragstrip. But I still struggled with direction on how I could pursue college/schooling to turn my passion into a career – I dreamed of being a professional drag racer, but I sensibly knew that I needed to find something that could also dependably pay the bills and forge a talent and career.
Bumps in the Road
Initially, I had wanted to become an Automotive Technician. After a few semesters of general education classes in college, I had been leaning towards attending a technical school for ASE Technicians. Already well-read and well-mentored by working in the office at the performance shop, I felt well prepared to enter a training program.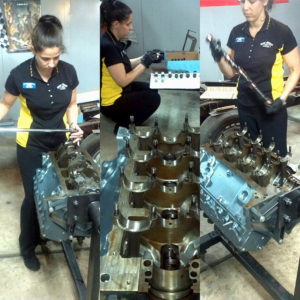 But one absolutely horrible encounter with a vocational recruiter at an Auto Industry show – and a few sad and undermining interactions with customers in the performance industry led me to alter my course altogether. The first came at the International Auto Show, where I approached a booth set up recruiting for a technician training program at the same college I was attending. There were a handful of people at the booth waiting to speak with the booth attendant. I waited patiently for my turn, watching as the attendant greeted and spoke with every other person – before and after me – while pointedly ignoring my obvious presence in the booth. Finally, when no other person was left, he begrudgingly asked me what I wanted. When I inquired about information about the program, he was rude and dismissive – leaving me questioning my career choice. Swaying my decision further would be my occasional interactions with customers at the shop – those who would refuse to acknowledge or speak to me based on my age and perceived lack of skill. One customer went as far as to refuse to accept or pay for an engine build – dynotuned and proven to have been everything he had asked for and more – solely because he had discovered that I had "helped" with assembly under the watchful eye of my veteran mentor. I will never forget it – partly because I wonder what could have been, but also that I live with the regret and disappointment that I let these experiences deter me.
While I continued to sharpen my skills in automotive personally through my racing activities – devoted and driven by my passion, I took a completely different road professionally – choosing to focus in school on a General Business degree and working in marketing and advertising. Marketing had many areas that intrigued me – and I was able to excel in my positions – moving up the ranks as I went. But it never truly fulfilled me – as I always longed to be part of the automotive industry. I often worked small part-time jobs at night for auto stores just to feed this connection to the automotive world. Marketing opportunities within the motorsports and automotive industry always seemed elusive to me.
One day, I stumbled upon a job listing for a Service Advisor at a local Ford dealership. I decided to submit my resume, having only my early "office manager" experience and part-time parts counter experience to offer in the industry. No call backs led me to visit in person, and after talking with the service manager and explaining my off-paper, and more non-traditional racing background – I landed the job and the rest was history.
Who was your mentor/inspiration?
There have been many, but mostly I credit my racing mentors – who taught me so much more than any books could have ever offered me. Dennis Lugo, Dan Parker, Al Moody, Rick Head, Mark Chacon, Marty Chance, and many others. They humored an awkward 19 year-old girl whose ambition was way bigger than her ability to take no for an answer.
Professionally, my inspiration has come from Cathy Anderson, the dealer principal of Woody Anderson Ford, where I began my Service Advisor career. She taught me so much about the importance of taking care of the customer, attention to detail, and where compassion mixed with hard work was capable of leading you. While as a first-time advisor, her presence and the bar she set may have been a bit intimidating, I ultimately hope to follow in her footsteps and achieve that level of success.
Walk us through your average day – what does a typical day look like?
As much as I love my job – it is not for the faint of heart. Service Advisor hours are typically pretty long and stressful. My day begins at 7 am – and is non-stop, 100 mph until sometimes after 7pm a night. We rotate every other Saturday, so 10-12 hour days, 6 days a week can take a toll on your personal life. Most days, I don't even get a moment for a lunch break, and the pace is so strenuous, I'm zombie-exhausted by the time I get home. Hundreds of phone calls, running back and forth to check on car status, parts. Keeping track of between 40-50 different cases, clients, cars and concerns. Handling upset and angry customers with grace and compassion. Helping to educate and inform those who struggle to digest the sometimes bad, and costly news of repairs. Multi-tasking abilities are an absolute must, as well as organization and super-human efficiency.
What are the Pros/Cons of the job?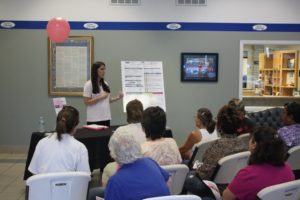 Pros – At the end of the day, I love to help people. I believe so strongly in taking care of each customer as though they were my own sister or brother. Auto repairs can be scary for someone with little technical knowledge
– one where you can feel vulnerable and easily taken advantage of. I make it a point to try and ease this apprehension by making it much more relatable and understandable. I'm not there just to "sell" service, but to make customers feel informed and properly advised on what their vehicle needs. Helping to identify what those needs are and being able to address them fulfills the puzzle for me.
Cons – Its a demanding role, and while it can be rewarding, it can also be very draining. Service Advisor ranks among the top ten in most stressful career choices. As the most forward facing face of the service experience, all of the responsibility lies – sometimes unfairly – on your shoulders. The ugly, but necessary CSI metric penalizes SA's for the mistakes of others. The first time you lose hundreds of dollars out of your paycheck when a customer hits you with a negative survey because you don't serve Starbucks in the lounge or their complimentary car wash left a water spot on their car (both true stories), is enough to make you question humanity sometimes.
What are your experiences as a woman in the automotive industry?
When I was younger, credibility or lack thereof was often assigned based on my age and gender. 'How possibly could this young girl know what the heck she is talking about?' Luckily, as I matured and my knowledge increased, skepticism usually gave way to visible astonishment on their faces when they actually figured out I knew what I was talking about – a reaction I secretly took pride and reveled in. I wish I could say it never happens anymore – but it occasionally does. Some will allow you the chance to prove to them that you are more than what they perceive you to be, others will walk away and never give you the chance. The key is not letting them get to you – laugh and never take it personally. After witnessing one such especially annoying encounter, a loving and dear customer of mine brought me a very special little desk sign the next day:
"Of course women don't work as hard as men…. they get it right the first time."
It sits on the glass just behind my desk – and when faced with another such "special" encounter, I just nod, smile, and look over at my little treasured gift of encouragement.
What advice would you give to another young woman hoping to follow in your career path?
Light a fire and GO! The key to being successful is going above and beyond – anticipate needs, over-deliver, go out of your way to treat every client as though they were your mother, sister, brother. Make their service experience feel more like they are visiting a trusted friend than a stiff, scary, intimidating dealership. Keep moving. Keep hustling. Stay organized. CALL YOUR CUSTOMERS. And don't let anyone make you feel less than a superstar at your job!
Questions? Interested in learning more? Ask away in the comment section below!