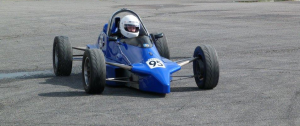 A comeback weekend for Toyo Tires Formula 1600 driver Amy Castell at Calabogie Motorsport Park in Ontario, Canada lands her on the podium despite early struggles.
While testing on Friday presented a few mechanical issues limiting Castell's time on track, she was able to quickly learn the 20-turn circuit in just the last two sessions of the day.  Qualifying on Saturday would find Castell sitting 10th overall and 4th in the B Class. After narrowly avoiding a race incident, Amy Castell would remain in the uncontested 3rd position for the remainder of the race.
During Sunday's qualifying, ignition issues would mean that Castell would only be able to complete one full lap – enough to qualify 4th in B Class. An incident during the start of the race led to a restart where Castell was able to stick with Connor Wagland's 2nd position car.
"It's so good to be back on the podium after the difficulties we've been having the past few weekends," commented Castell. "The team did an amazing job with the car and I can't wait for next weekend!"
Castell had previously had a problematic outing in the rain-soaked BARC Grand Prix event.   The Toyo Tires Formula 1600 Championship winners will be determined at the 61st annual BEMC Indian Summer Trophy Races on September 12-13 at Bowmanville's Canadian Tire Motorsport Park.
Amy Castell is supported by Landmark Cinemas Canada, Castrol Canada, Bell Racing USA, Performance Physixx, KarmaComa Studio, Jaguar Land Rover Waterloo and Volvo of Waterloo, Driverseat Kitchener, and Leaf Racewear.
The Toyo Tires Formula 1600 Championship Series is the premiere open wheel series in Ontario, sanctioned by CASC Ontario Region. The series is comprised of six double-headers and competes at Canadian Tire Motorsport Park, Shannonville Motorsport Park, and Calabogie Motorsports Park.