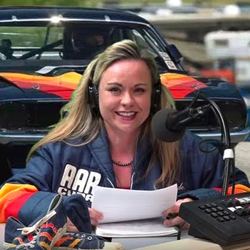 Our latest featured site is the bi-weekly motorsports show, Good News with Angela Savage.
Bright and bubbly host of the Good News show, Angela Savage talks racing news, interviews popular motorsports figures and other cool features from the fast lane on this bi-weekly, 1-hour radio show that airs Thursdays 10:00 AM PT – 11:00 AM PT.
The daughter of late Indianapolis 500 racer, Swede Savage, Angela was not yet born when her father, who led the 1973 Indianapolis 500 in only his second start, suffered a horrible crash in turn four of Indianapolis Speedway during the race, only to succumb to his injuries 33 days later. Angela's mother, Sheryl, was six months pregnant with Angela during the Indianapolis 500, witnessing Swede's horrible crash directly in front of her. Three months later, in October of 1973, Sheryl welcomed Angela into the world.
Never having the opportunity to meet or know her famous father, Angela's mother spoke very little of her racing lineage. In fact, Angela's first introduction to the racing world or the hallowed Indianapolis 500 came in 2014, thanks to a chance friendship and a successful crowdfunding campaign. Angela was able to stand on the location of his crash, making peace with inner pain that stemmed from knowing very little of her natural father's life and death thanks to Paul Powell, the Indianapolis Motor Speedway, and other devoted fans. The experience changed her life and she has spent the last couple of years catching up with her long-lost racing family, learning about her father's passion and meeting many of the people who walked along side him in the sport. Good News with Angela Savage is a tribute to that reintroduction to the sport, carrying on her father's legacy through hosting this wonderful show for all motorsports enthusiasts worldwide.
Tune in: Good News with Angela Savage
Listen live at WWDB TV or catch archives from Season 1 on the Good News with Angela Savage YouTube Channel.