This week,  a female racer has made headlines and started a backlash of angry racers all over the internet against her.   Barbara Nesbitt, injured when the driveshaft in her Pro Street Camaro came apart and battered her inside the car at the NMCA Charlotte event in August 2010, has now filed a lawsuit naming the NMCA, NHRA, Skinny Kid Racecars, and the SFI Chassis inspector who certified the car for competition.
We all know its there.   The fine line between the adrenaline rush of a sweet pass, and the potential disaster that can happen in just a fraction of a second.  We see fellow racers who face the consequences… some who walk away, some who face injuries, some who leave us doing what they loved.   One thing you hear from every racer… its not a matter of IF you'll wreck, its a matter of WHEN.  Racers know the risks when they put on that helmet and pull into the fastlane.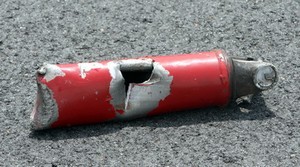 The short of the issue:  Barbara is blaming the organization, the car builder, and the safety inspector for the mechanical failure that caused her injuries.
Backlash against Barbara Nesbitt
At the time of her injury, Barbara was flooded with racer support and well wishes.  She came back not long after the accident to thank everyone for their kindness.  But her latest action has resulted in a flood of hatred her way.    People want her banned for life, refuse to compete against her, and have mounted overwhelming hatred of this action.
Now, I've made it my lifelong passion to SUPPORT women in motorsports, so its tough for me to see this go down.   But whether this was her decision to move forward with a suit or that of her insurance, this is only going to result in negativity for all drag racing.
It was tragic what happened to her.   Drive shaft incidents were popping up a lot in 2010, first in Pro Modified and then down to the street level in Pro Street.    Nesbitt's accident was an eye opener that bridged the gap that a drive shaft tunnel was also needed in the slower classes as well.    The SFI Foundation, responsible for research and safety standards in motorsports, made changes to this rule as a result of Nesbitt's accident.
But the fact I just can't comprehend, is how she can even feel justified in blaming others for this incident.
Its HER racecar

.   She and her crew are responsible for the upkeep and the mechanical soundness of the car each time it goes to the line.   When was the last time the drive shaft was checked?  Was it loose?  Were the U-joints properly lubricated?  There are a lot of reasons that cause drive shaft failure.

That WAIVER we sign

:  its not autographed toliet paper.   There is a reason we sign a waiver that says we race at our own risk.  Because we all know that its dangerous.  How can you then blame the racing organization for an accident that involved no one but your own car?   It wasn't like they provided you an unsafe racing surface that CAUSED the failure.  You didn't get hurt because you hit an unsafe barrier.  In fact, Nesbitt bragged how good of a driver that she was in getting the vehicle stopped while injured without hitting anything.

No warranty expressed or implied

.   There isn't a racing related part on the planet that comes with a safety warranty.  You build a car, you make it as safe as possible with available technologies, but it's still on you to make sure that it stays as safe as possible.   That's why you sign the tech card every race event that says that you've complied with all required safety items and that you've ensured the vehicle is up for operation.   The drive shaft tunnel wasn't mandatory for her class, but it wasn't prohibited either.  Erring on the side of safety is always an option for a driver.  Unfortunately, she didn't opt for the tunnel.
So she is suing NMCA, NHRA, the tech inspector that certified her chassis (not her driveline components) and the chassis builder who built the car, Skinny Kid Racecars among others.     Now, each of these organizations have to fork over for legal defense teams, and in the case of the sanctioning bodies, may face insurance complications as a result.    Insuring a dangerous sport like drag racing is already a difficult task, frivolous suits like this threaten events further.   What this is hurting isn't the insurance, its ultimately the racers and the sport.   What happens when no one will insure or protect an event as a result to these type of  "its never my fault" suits?   No one will be able to afford personal liability, and insurance companies will not take the risks of insuring such an event.
What do you think?   Who do you think should be liable for accidents at the track?    What impact could this have on racing as a whole going forward?