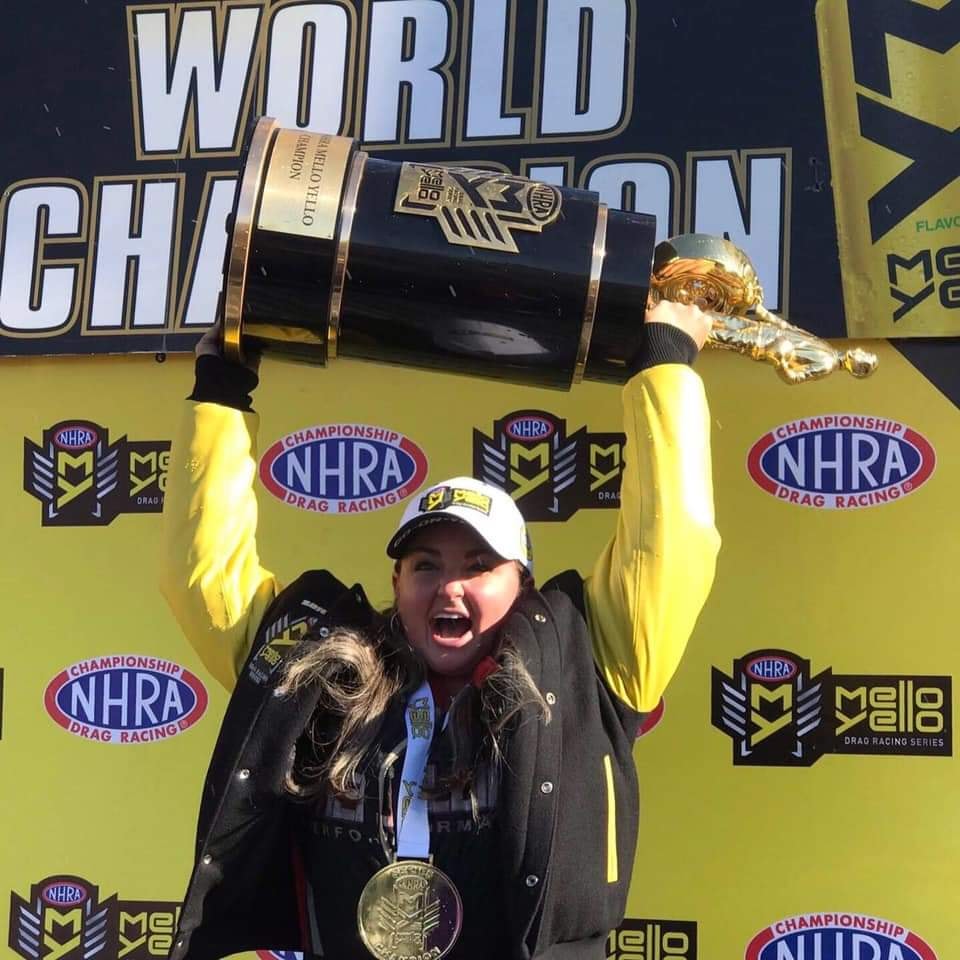 The stakes were high coming into the closing race of the NHRA season. It was down to the wire for Pro Stock driver, Erica Enders, battling to claim her third NHRA Pro Stock World Championship.
Gossip and drama in Qualifying
The suspense and drama began in qualifying. Enders, who has claimed three No. 1 qualifying spots in the countdown, and has qualified second at the last two races, would again earn the No. 2 position entering eliminations.
That's where things get complicated. In what many viewed as a calculated move, rival Greg Anderson strategically placed himself at the bottom of the qualifying ladder in the No. 15 position, in hopes to send Enders home first round and give his Summit Racing teammates a chance at the Championship.
Not at all intimidated, Enders spoke at the top end following qualifying that she and Anderson have a long history of controversial encounters.
"That guy has hated losing to a girl since the day I first set foot out here and I plan to keep it that way,"

Erica Enders, via NHRA.com
Critical Round wins in Eliminations
Everyone was talking about the epic first round match up of the NHRA Finals at Auto Club Raceway at Pomona.
The tension could be felt throughout the crowd as the two foes pulled to the starting line. Both had previously won in Pomona, Enders in 2014 and Anderson six times previously.
They left the line with nearly identical reaction times – Erica with a 0.017 and Anderson a 0.016. Both thundered down the track side-by-side, but Enders would come up with the win light by a mere 16 inches.
In a career-defining round win, Erica defeated Greg Anderson with a 6.570 ET at 210.41 mph, to his losing 6.575 at 210.31 mph. The crowd and her team on the starting line went wild in celebration.
"It was the race of the year for me, so I couldn't be more proud. I found it bit interesting (the qualifying games), but it is what it is. I've said it before that I would rather race someone like him first round. We went out there and they gave us all they had, and today it ended in our favor. It was a great drag race."

Erica Enders
Securing the championship
With that monumental win behind her, she just had one more round win to clinch a third championship: the quarterfinal match up against Chris McGaha. McGaha is another rival of Enders, with an equally colorful history of past encounters as well.
But Enders got the last laugh, as she proved deadly on the tree enroute to a holeshot win. Her reaction time of 0.019 over McGaha's 0.050 was enough to keep her Melling Performance/Elite Motorsports Chevrolet Camaro in front with a 6.597 at 209.69 mph to a losing 6.593 at 210.08 mph.
"Going against Chris in the second round, it's two of my favorite guys to beat in the same day (in Anderson and McGaha), so I was just thrilled for our entire organization. What an honor."

Erica Enders
After turning on the win light that made the championship official, Enders coasted around and lingered inside the car gathering herself for the ensuing celebration.
"This one means a lot because of the valleys we've been through. It was a challenge for us and I'm thrilled. It's just an awesome feeling to be back on top, and it's the reason why you never give up."

Erica Enders
"Today ended up being a great day with us locking up our third championship and my teammate, Jeg Coughlin, winning the race and solidifying the second position. For everyone at Elite Motorsports to take home the top two positions in NHRA Pro Stock, it's a huge thrill for us. We take a lot of pride in what we do and it paid off this year. I'm just really proud."
Erica Enders "thrEEtime" Pro Stock Champion
It's been the perfect storm of a championship chase for the Elite team led by crew chiefs Rick Jones and Mark Ingersoll. They entered the chase in fifth place, and really turned it up during the Countdown . Hoisting the championship cup was the culmination of all that immense amount of work. Enders becomes the lowest-seeded driver to win a championship in Pro Stock history.
Enders proved she is fire under pressure, winning St. Louis and Las Vegas during the playoffs, qualifying at the top of the field throughout and putting together a string of consistent performances.
The 2019 championship marks her third career NHRA Pro Stock title. She's already adopted the new hashtag "thrEEtime champ" – a play on her initials. She previously won championships in 2014 and 2015. Enders joins Angelle Sampey and Shirley Muldowney as the only females in NHRA history to win three world titles.
She ends the year with her two countdown wins and five final round appearances, a total of 25 career victories. The Vegas win was the 150th overall wins for females in NHRA Mello Yello Drag Racing Series history – and 51 final round appearances.
"To give your whole life to something, it's been a really long road and it hasn't been easy at all," Enders said. "You persevere and you just never give up.

Erica Enders