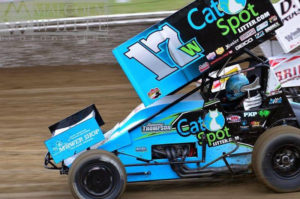 Sprint car racer Harli White returns to Grays Harbor Raceway in Elma, Washington this weekend looking for redemption for the Fred Brownfield Classic.
White captured her first career Lucas Oil ASCS National Tour heat race win and started fifth during her most recent appearance at the 3/8-mile oval a year ago, but a collision by another driver created a brake problem after hitting her that resulted in a DNF – Did Not Finish performance.
"I really like that track and it races well," Harli White said. "We're excited to go back there and hopefully we will get back on track with top-10 finishes."
White returns to Grays Harbor Raceway after a challenging last weekend in Washington during the 47th annual Jim Raper Memorial Dirt Cup at Skagit Speedway, where she was able to avoid most of the mayhem of the day.
"The way the format was it was very, very tough," she said. "You wanted to start in the front of your heat or a qualifier. The whole object of the weekend was to be in the qualifier both nights to have a shot on Saturday. We didn't have a good night the first night and weren't able to make the qualifier so we were in trouble."
Harli White placed fifth in both a heat race and a B Main during the opening leg of the tripleheader last Thursday. She gained two positions in both a heat race – fifth – and the qualifier – seventh – on Friday, but that still relegated her to a B Main. White held the final transfer position until a late-race caution allowed a fellow competitor to get around her on the top of the track. She just missed a spot in the A Main feature by one position after finishing third.
The event concluded on Saturday with White rallying from an early incident to place seventh in a B Main.
"Going into the first corner everybody decided to park it," she said. "I got over the tail tank of the car in front of me. It bent the right front torsion bar. That hurt us because we fell to the back. I think track position hurt us all weekend. However, we came out in one piece and didn't tear up much so that's a positive."