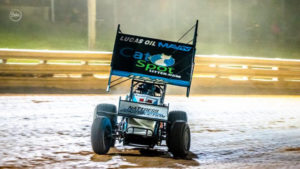 Adding a few new venues to her resume resulted in a Top 10 debut for Harli White, an ASCS National Sprint Car driver.
"It helps a lot going to new tracks," she said. "You have to adapt really quick and figure out the setup, gearing and things like that. As a driver you have to figure out what way the track likes to be raced. That is one thing I've learned is to adapt quicker than I used to. It also helps being in different parts of the country with the different conditions and altitudes."
White first visited Gillette Thunder Speedway in Gillette, Wyo., a week ago Wednesday for a Lucas Oil ASCS National Tour event. Her first visit to the facility, Harli was able to advance from sixth to fifth place in a heat race, lining her up in the 14th position for the main event. Rain would delay the race, but after racing resumed, White maneuvered to an 11th-place finish on the heavy track, just missing a top ten debut.
"It was the luck of the draw in the heat race and it didn't go in our favor," she said. "I didn't get a good start in the A Main. It singled out and then I got lapped so that didn't help at all. When you're down a lap you don't want to get in the way of the leaders battling for a win so you race a little different."
A weekend off after her Gillette debut to rest, and White packed up and entered Brown County Speedway in Aberdeen, South Dakota Monday for the ASCS National Tour.
"It was really cool," she said. "It was a unique little bullring. It was cool to go up there and I enjoyed adding another new track to my list."
White finished her heat race where she began – in the fourth position – before ending the evening with a 10th-place finish in the A Main event. That finish marked another Top 10 debut for Harli White, and her seventh top 10 during ASCS National Tour competition this season.
Harli will resume competition this Saturday at Knoxville Raceway in Knoxville, Iowa, where she will race the next couple of weekends in preparation for the 360 Knoxville Nationals Aug. 2-4.
"I'm going to focus on time trials since we don't do that often," she said. "That's a key thing at Knoxville. After that we'll focus on getting through the heat and racing cars. The air is a big deal. We don't get to see that very often so it has a big effect on how your car handles at Knoxville. These next couple of weeks will be important to give us momentum going into the 360 Knoxville Nationals."