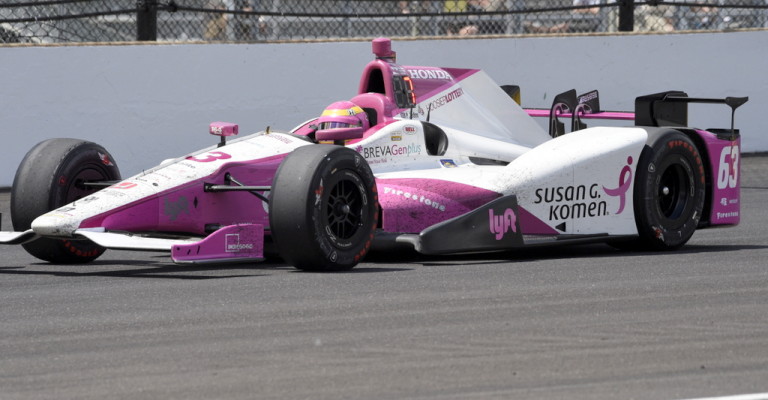 Sunday's 100th running of the Indianapolis 500 resulted in a career best finish for Pippa Mann.    The lone female driver to compete in this year's Indy 500, Mann showed one of the strongest runs of her career at the famed event, running as high as eighth, and ultimately finishing 18th.
Mann qualified for the 33 car field  in the No. 63 Honda with Dale Coyne Racing, her third year under the banner of Susan G Komen.  Her Indianapolis 500 campaign promoted breast cancer awareness and included a crowdfunding effort with a goal of raising $100,000 for the cause.
Starting the race from the 25th grid position, Pippa Mann avoided several on-track incidents with the help of her spotter team, delivering a clean and consistent performance. With each pit stop, Mann praised the performance of her car to the Dale Coyne Racing crew, repeatedly asking that little on the car be changed.
As the race went on, we were able really keep improving the car at the stops," said Mann. "As the track got hotter and more difficult to drive for the other people out there, our car kept getting better and better. That's a great thing to have happen during a race like this."
A full course caution came out with less than 40 laps to go, and the Dale Coyne Racing crew brought Pippa into pit lane under yellow for a full service stop. She restarted in 16th, and with 21 laps to go, she cracked her way into the top 15. The rest of the field showed their hand, running low on fuel, with cars pitting one by one. As laps wound down and tension increased, Mann cleanly climbed her way to 8th position, hoping for a late race caution to allow for fuel conservation. With four laps to go, the crew of the No. 63 Susan G. Komen Honda called Pippa in for a splash of fuel, rejoining in 18th position.
The 18th place finish marks an Indianapolis 500 career best finish for Pippa Mann, boosted by running in eighth position in the final laps. Although that late race caution the team so eagerly hoped for never came, Mann expressed satisfaction in her performance.
At the end there, we were really hoping for that lucky yellow, and we'd have come away with an incredible result," remarked Mann. "I still have to be happy we had such a strong run here, especially seeing how hard the guys worked all day and all month long."
At the time of the checker flag, Mann and Susan G. Komen's crowdfunding efforts raised $68,500, almost $10,000 more than the year before. The fundraiser can be viewed on the official Get Involved Campaign on Indiegogo.
"I want to thank BREVAGenplus for believing in me and this car. I'm grateful they came on board to partner with us to make this year's Indianapolis 500 possible. It's really great to be able to represent a brand that has so many ties in the breast cancer space and whose mission is so similar to that of ours: to end breast cancer forever."