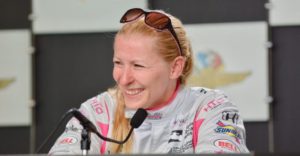 Indycar driver Pippa Mann is planning her return to Dale Coyne Racing for a fifth consecutive year to pilot the team's third entry in the 101st annual Indianapolis 500. Mann will be back behind the wheel of the #63 Dale Coyne Racing Honda as she looks to make her sixth start at the famed 2.5-mile superspeedway.
The British driver will once again be paired with engineer Rob Ridgely. Ridgely was Pippa's engineer when she scored her best IndyCar Series finish in 2015 (13th), as well as her best Indy 500 result (18th) last year.
"I'm very happy to be rejoining Dale Coyne Racing for my fifth consecutive year with the team at the 101st Indy 500," expressed Pippa. "Dale has invested heavily in the team over the winter, and it's an exciting time to be part of his organization. I'm looking forward to working with the same familiar faces from my 2016 campaign, like my race engineer Rob Ridgely, as well as working with the new members of the team, including my new teammates Sebastien (Bourdais) and Ed (Jones). I'm thrilled to be getting back on the race track this May for my sixth Greatest Spectacle in Racing."
Also returning for a fourth consecutive year, is the Susan G. Komen® cause. Pippa will continue to raise awareness for the 'Get Involved Campaign' as well as working with Auction Cause, a premier cause marketing agency, that will run a charity auction on eBay for the cause. The campaign will launch May 1 and close the week following the Indy 500. The funds raised will be used to support Komen's global breast cancer research, and community based programs throughout the U.S.
"I'm also excited about the link up with Auction Cause and eBay for Charity this May," added Pippa. "They have so much experience running online campaigns, I feel like it's a huge step for me, and for the Get Involved Campaign to partner with them. This new format has allowed me to reach out to more drivers, get them involved with more signed items, and I'm hoping we're able to reach more race fans, and raise even more money for Susan G. Komen than we have ever done before."
In the past two years, the campaign has raised over $135, 000. Items available in the 2017 auction will include 1:18 die-casts and artwork signed by various drivers, Pippa's race worn, pink helmet and firesuit, a karting night at Speedway Indoor Karting, as well as the popular 'Turn the cockpit pink' option where names of people are placed in the cockpit to honor the memories of loved ones lost, or those who are fighting or who have fought cancer.
"It's always a pleasure to have Pippa on board for the Indy 500 and to help promote the Get Involved Campaign, raising funds for Susan G. Komen," shared Team Owner Dale Coyne. "Pippa works hard every year to put together this program and to race in the Indy 500. With her perseverance and enthusiasm for our sport, it's only fitting that we continue this relationship that started five years ago."
People who wish to be notified via email once the auction goes live can sign up at the following link: http://www.auctioncause.com/cf/komen-get-involved/signup.htm
On track action for this year's Indy 500 gets underway Monday, May 15 with practice. The 101st Indianapolis 500 will take place on Sunday, May 28, 2017.