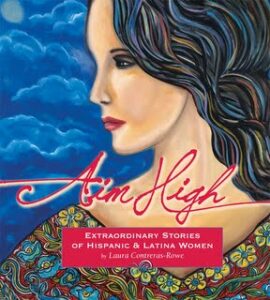 A few months back, I had the wonderful honor of being interviewed by book author Laura Contreras-Rowe for a book project she was working on called AIM HIGH: Extraordinary Stories of Hispanic and Latina Women.
The interviewed lasted hours, where I talked about the journey I've taken over the course of my racing career and the things and challenges in life that drove me to chase my dreams.
Well, the first edition is back from the printer, and I've received my first copy. I'm really excited to be included as one of the 33 hispanic women chosen to share their stories. Venezuelan IRL driver Milka Duno is also featured in the book, so its quite an honor to be included along with her.
The book features stories from a wide variety of different professional backgrounds. All the women featured tell their personal stories, with the overall theme being the powerful message that despite financial challenges, family obligations and horrific environment or events: a young Hispanic or Latina woman can succeed to astounding heights with courage and tenacity.
This is the first book I've ever been featured in, and its a tremendous honor to be included in something so memorable and inspirational. The idea that this will be something that will exist to show my family and future generations is very emotional for me.
The book is available on Amazon.
(A small side note to my family and friends: though the story is written in 1st person perspective, it was written by Laura and there may be some details that were slightly skewed from what you may recall)