Women of Motorsports sure are on the hunt for achieving big wins by dominating the men in the process. That's where 19 year old Sarah Boyce from New Derry, PA comes along. As she spent most of her time at the track to spectate and watch her dad compete, she became drawn to the excitement. There after Sarah took on her dad, Ron Boyce 2014 Dodge Ram pick up truck, where she ran 14.90's in a quarter mile track.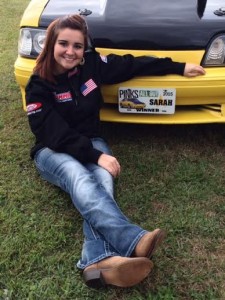 After winning at Pinks, all I can remember is wanting to jump out of my car, hug my Dad, my Mom and my boyfriend Tyler. I was so happy they were there for this life changing experience. We still talk about it to this day.

Winning, Pinks All Out
As Sarah graduated High School, her parents awarded her with a 1989 Fox Body Mustang. She couldn't wait to get on the track because she felt this car was exactly right for her. Sarah's dad entered her into the event, Pinks All Out. A TV show hosted by Rich Christenson.
You would of thought somebody died, I and everyone else around me screamed like crazy! I couldn't believe I got picked for the Top 16, let alone be the first person called, I was so excited!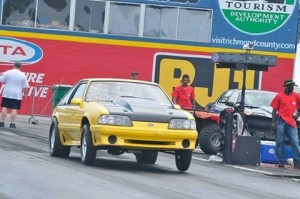 She then became very nervous, as there were over 100 people in her 11 second bracket class. They gave them two qualifying rounds, then after everyone got to make their two qualifying passes, Rich made an announcement of who made the Top 16, hoping that Sarah had a chance. The first thing Rich said was Car "#72, Sarah Boyce."  Being apart of this event was life changing for her. Sarah didn't think she could win something like this. She plans attend again in 2016, in hopes for another win.
I raced against guys who have been racing for many years, I was so proud that I never gave up. We still talk about it to this day!
She still continues to build her dreams by attending the track in Pittsburgh Raceway Park in hopes to impact other women of Motorsports. Her biggest supporters are her parents, boyfriend and her racing family.