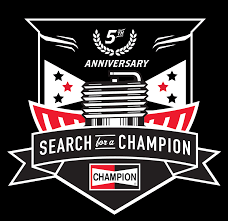 The 5th annual Search for a Champion contest held by Champion gives racers a chance to compete in two divisions:  Amateur for a $25,000 grand prize and Advanced for a $50,000 grand prize.   The first round of voting will determine the 25 racers in each division that will compete for the grand prize.
Women Racers | Search for a Champion
It is always great to see the growing number of women that join the ranks to compete for the prize to aid in their racing careers.   There are an impressive 45 women entered in the Search for a Champion contest.  Voting for round one ends February 2, 2016.
To help support women in motorsports, vote for any of the ladies below:
Carly Jo Ellingson | 2015 Grand Prize Winner
Last year, young upstart Carly Jo Ellingson represented women in racing well, winning the 2015 Search for a Champion Grand Prize.   Kelsey Rowlings, Amber Balcaen, Kaley Moody, Alex Rogeo, Tina Stull, Caley Weese, Molly Helmuth, and Taylor Toftemark were also female finalists for Team Champion in 2015.