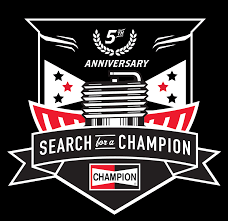 The 5th Annual Search for a Champion 2016 Finalists have been announced.     The contest, held by Champion Auto, gives racers a chance to compete in two divisions:  Amateur for a $10,000 grand prize and Advanced for a $50,000 grand prize.   The first round of voting determined the racers in each division that are now competing for the grand prize.
Female Racers | Search for A Champion
An impressive 45 women entered the 5th Annual Search for a Champion Competition.    These ladies worked hard in the polls for a chance to be a finalist.  Round 1 voting closed February 2nd, and the Finalists have now been announced.    5 ladies were chosen in the Amateur class out of 25 finalists and 2 ladies made the cut as part of the 15 Advanced finalists.     These ladies are now in the running for the Grand Prize, and need your votes when the polls open February 23rd.
To help support women in motorsports, vote for any of the ladies below:
Search for a Champion Amateur | Female Finalists
Audrie Ruark
Macy Dowell
Riley Gonzalez
Amanda Hagerl
Reanna Walton
Search for a Champion Advanced | Female Finalists
Last year, Carly Jo Ellingson represented the women all the way to the Grand Prize.  Let's see if we can help another young lady get the chance of a lifetime that she needs to be successful!     Best of luck to these ladies!
Enjoyed this article?   You can keep up with hundreds of other women in racing by subscribing to receive free weekly Horsepower & Heels news updates.