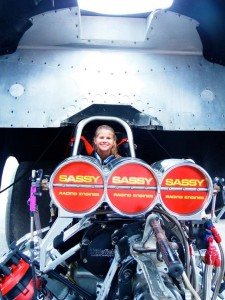 She began in the world of drag racing as a child, driving in a Junior Dragster at age 11. But Stacy McGlory wouldn't stop there. As she turned 18, Stacy began racing a Dragster in the Super Pro category. One day, as Stacy had a run in with the Champney Card Funny Car at New England Dragway, along with her father, Don McGlory and friend/crew chief, Frank Freitas. There after, Stacy received the chance to become a Member of Champney Card crew. She enjoyed every minute of it, when it came time years later, Stacy was given the opportunity to drive a funny car!
As every driver knows, there is always the desire to go faster. I was very fortunate to become part of such an amazing team, I have always loved everything about the track and racing, its safe to say it is my home away from home."
Stacy McGlory
Recently, Stacy McGlory, who is now 23, graduated from Tufts University with a degree in Mechanical Engineering. When Stacy isn't going full speeds down the track, she takes on the roll of an Engineer in North Haven, CT. She also participates with the Girl Scouts STEM Program to encourage more young girls to get involved with careers in math and science.
The majority of people are extremely positive about me pursing my dream; however, it is clear that Motorsports are still a male dominated sport. Plenty of people do not believe that I am the driver of the car or assume the car is substantially slower. I am fortunate that in my division, I have the full support of the track and Dana Hard who runs the East Coast Pro Comp series."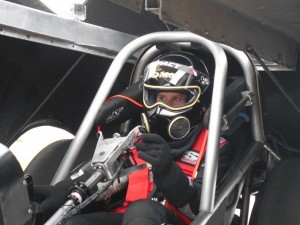 Running in the East Coast Pro Comp Series in the Champney Card Alcohol Funny Car, Stacy McGlory competes in the 6.20 index racing class. Stacy states, "It is a truly amazing class because you are able to see dragsters line up against funny cars and altereds." As Stacy prepared herself for the past year in the Champney Card Funny car, she spent about half of the season getting her license. Once completed, she was able to qualify for every race and was able to accomplish her first goal by being qualified 1st in the final race of the season. Stacy was able to finish 5th out of the 15 drivers, despite missing the first of the season.
As every driver knows, there is always the desire to go faster, I never imaged being able to race a funny car so for me this truly is a dream come true. That being said, the Champney Card funny car is hoping to start racing in more divisional's this season and one day compete for the NHRA Alcohol Funny Car championship title."
With amazing support from family, friends, fans, and her team. Stacy is happy to be racing! She says, "I wouldn't be able to do this without them. I have to thank Sassy Engines, especially John Card who built and does all the maintenance work on the car. And to the owner Dennis Champney!"
You can learn more about Stacy, by clicking the following links. 
Instagram: https://www.instagram.com/stacy.mcglory/
Facebook: https://www.facebook.com/Stacy-McGlory-153186548363900/