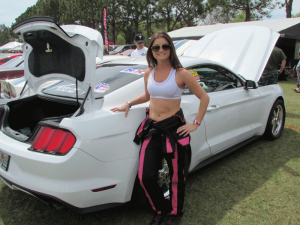 Don't let size fool you.   Alexis Fruggiero in EcoBoost Battle trim is proof positive that small can pack a powerful punch.   
The National Mustang Racers Association (NMRA) is always host to the best and brightest of the Mustang racing world, and their season opening 22nd Annual Spring Break Shootout debuts a host of new talent every year, ready to take top claims in a host of categories.   22 year-old Alexis Fruggiero is poised to make her presence known in EcoBoost Battle with her 2015 EcoBoost 2.3L Mustang.
One of the newer classes to emerge in the series, the EcoBoost Battle was introduced last season at the NMRA World Finals in Bowling Green, KY to feature any vehicle sporting Ford's EcoBoost engine combination.  The class was so popular, that NMRA brought the class to 3 more events in 2016 with class sponsor, Livernois Motorsports.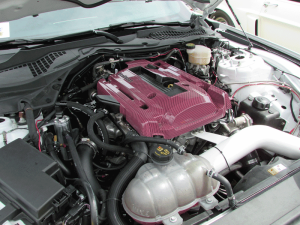 Alexis Fruggiero, who hails from Port St. Lucie, Fla., was introduced to racing by her brother.  Her boyfriend, Michael, who owns MD Auto & Tire, has helped her mount a formidable effort for her rookie attempt in NMRA EcoBoost competition.  Lexi is also sponsored by EcoBoost class sponsor Livernois Motorsports and Nitrous Express.
The Livernois Motorsport tuned and built 2.3L EcoBoost powerplant features upgraded internals – I-beam rods, pistons and a deck bracing.   Her stock 25mm turbo has retained the factory housing and size, but an upgraded impeller wheel was installed over the off-season to prepare for EcoBoost competition.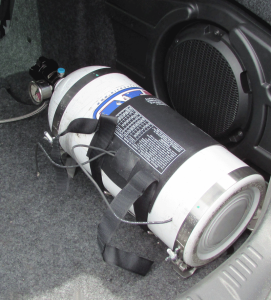 Methanol injection was added to help keep things cool, and Lexi also calls on a little extra go with a Nitrous Express 50-75 HP universal wet kit.   The factory automatic transmission has been fortified with Exedy clutches, and still retains the stock torque converter.  Her low 11 second record in the car is one of the fastest known stock converter EcoBoost setups in the country.   Though she has yet to visit a dyno with her new setup, they estimate it makes around 500+HP out of the little EcoBoost 4 cylinder.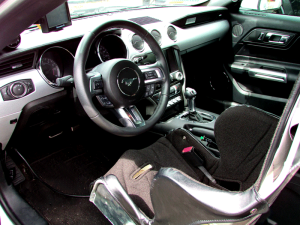 The interior of the car still retains all the creature comforts with the exception of a racing seat, pulling double-duty as Alexis' daily driver.    Currently a college student at Keiser University, Alexis is only a few months away from graduating with her Bachelor's Degree in Biomedical Sciences, and the car is her primary mode of transportation.
Alexis Fruggiero in EcoBoost Battle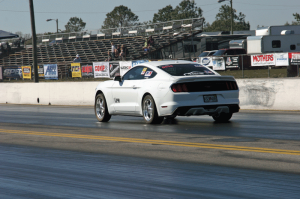 Alexis headed into the NMRA Spring Break Shootout qualifying against a field of 11 other EcoBoost Battle entries.   She was able to post a 11.236 second, 118.48 mph qualifying effort, good for the No. 3 qualifying position.  That pass marks her personal best in the car, and In the opening round of eliminations, she would face Lonnie Aspinawall, but something inside the ECU of the transmission went amiss on the run.   Lexi wasn't able to shift from 2nd to 3rd gear on the pass, hitting the rev-limiter and resulting in an off-paced 12.232 second pass at 90.37 mph.    Unfortunately, she wasn't able to stay in front of Aspinawall, who ran a 12.114 second run at 113.27 mph, and was eliminated in the first round.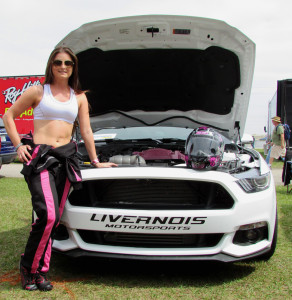 The next chance to see Alexis Fruggiero in EcoBoost Battle will be June 9-12, 2016 at the NMRA Ford SuperNationals at National Trail Raceway in Hebron, Ohio.
Best of luck to Lexi Fruggiero as she works toward EcoBoost domination!