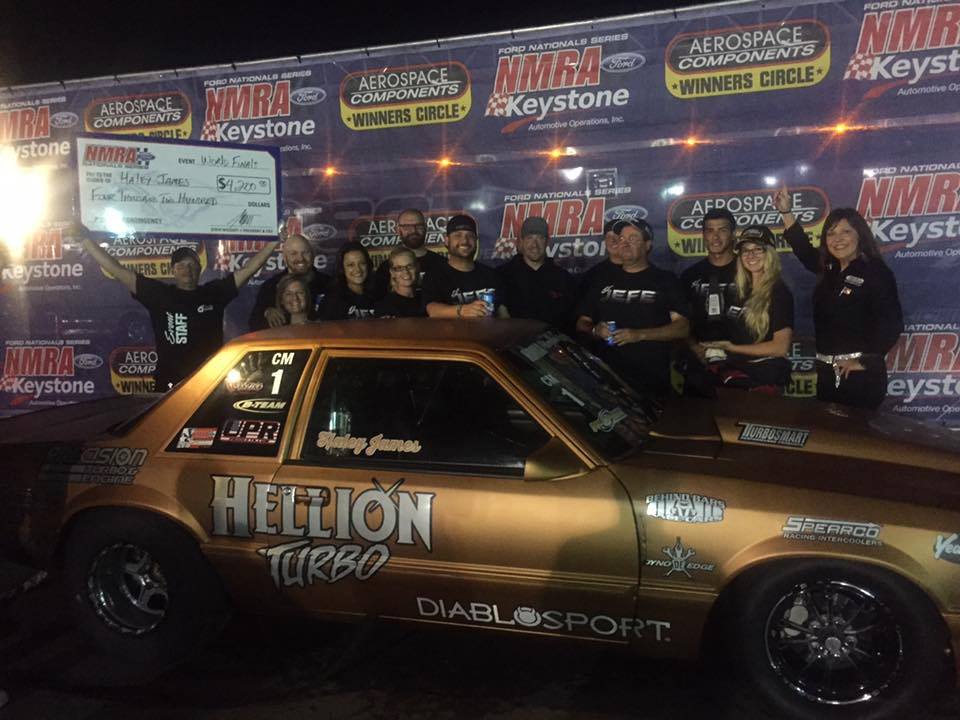 NMRA drag racer Haley James takes final Coyote Modified win of the 2016 season at the 18th Annual Nitto Tire NMRA All-Ford World Finals.    The second-year racer has had a difficult season, beginning with a jump to the Renegade class, before returning to the class in which she claimed the 2015 series championship title.
James qualified in the No. 4 position in the rain-shortened qualifying program, with a 7.907 second, 173.41 mph effort.     In Sunday's opening round, she was paired with the 2004 Mustang of No. 7 qualifier, Timothy Lapinski, where she would cross the finish line solo with a 7.944 at 172.41 mph pass.
Round two, James would face No. 3 qualifier, Jeff Polivka's 2013 Mustang.   The Hellion B-Team driver would get the startling line advantage with a 0.062 reaction to Polivka's 0.074 light, taking a holeshot win at the finish with a slower 7.932 second at 173.29 mph pass to Polivka's losing 7.928 at 175.21 mph effort.
In the semifinal round, Haley would get a competition bye run into the finals, dropping her 93 Mustang into the 7.888 zone at 173.43 mph.  This effort awarded James lane choice in the deciding round against the 1985 Mustang of Joe Guertin.
Both cars staged together in the exciting final, but with the first jump at the tree and never looking back, Haley James takes final Coyote Modified win of the season at the World Finals.  Her 7.857 second,  173.45 mph performance bested Guertin's 7.872 at 172.45 mph pass.
"Bowling Green was an amazing way to end a very trying year," said Haley of the Coyote Modified win.  "I'm very grateful for all of the support, help, and teamwork that's at my constant disposal. We found some very much needed, well overdue power this weekend."
Video |  Haley James takes final Coyote Modified win