NHRA driver Leah Pritchett earns a pair of No. 2 qualifiers but falls short in both Top Fuel and Factory Stock eliminations during the AAA Texas NHRA Fall Nationals.
Pennzoil Top Fuel results
For the third time during the Countdown to the Championship events, Leah Pritchett and her Pennzoil Top Fuel team were able to score the No. 2 qualifying position, running a 3.681 E.T. at 332.10 mph best qualifying effort.
In the opening round of Top Fuel eliminations, she faced No. 15 qualifier Kebin Kinsley. Kinsley would have the early advantange, but Pritchett would drive around him at the finish line, running 3.724 E.T. at 324.12 mph to his losing 3.822 E.T. at 263.51 mph.
"Having a race car that makes it down the track on race day is very crucial for us, and we did not take Kebin Kinsley lightly. He showed with his early numbers that he wasn't there for the taking, and it was a great drag race. The feeling of putting on that win light for the Pennzoil team is just as bright as our car. We've made progress in the sense of simplifying our issues. This was the best weekend we've had in the Countdown in regards to moving our program forward. The issues we've had have been in the bellhousing, and we were able to fix that."

Leah Pritchett, driver of the Pennzoil Top Fuel Dragster
Round two would put her against No. 7 qualifier Austin Prock. Pritchett would leave first and carry the early lead, but encountered mechanical difficulties with her 11,000-horsepower machine dropping cylinders down track, allowing Prock to come around for the win. Leah ran 3.964 E.T. at 250.55 mph in her defeat by Austin Prock's 3.742 E.T. at 330.39 mph.
"(Austin) Prock laid down that 3.68 in E1. Us not having lane choice wasn't our issue in E2. We dropped a hole, and then dropped another two, and then kicked a belt at about half-track. At the top end, (NHRA on FOX reporter) Amanda Busick had asked how paralyzing it was to see your competition reach the finish line before you and I said, in that moment, it might be paralyzing because there's nothing you can do, but this team is not paralyzed by any means. We know exactly what happened and why we weren't able to move on beyond round two.

Leah Pritchett
Pritchett's Pennzoil Top Fuel team exits the event in the No. 5 position in the Countdown to the Championship. She trails the current leader, Steve Torrence, by 104 points.
"The way the points are shaping up, it's still extremely tight. We have a chance at this championship; we have a race car that's coming around at a fast rate of speed and a team that's dedicated to finishing strong. We look forward to continuing our Top Fuel championship campaign. We really thought today was our day. It was a good day, but unfortunately, it wasn't a great day."

Leah Pritchett
MOPAR Dodge Challenger Drag Pak Results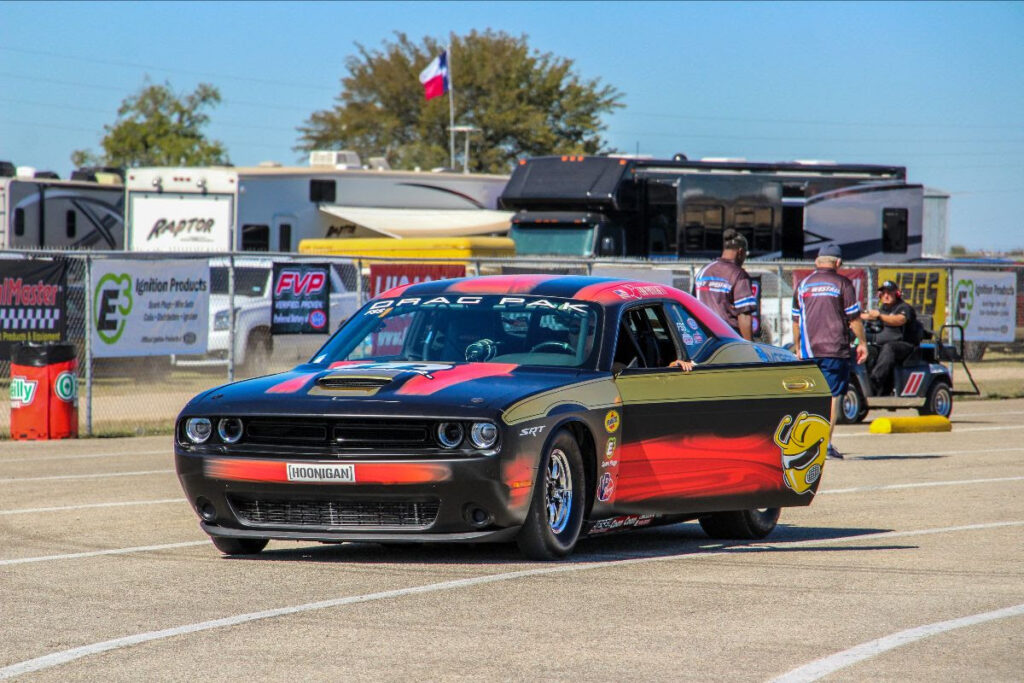 Pulling double-duty in the Factory Stock class with her MOPAR Dodge Challenger Dragpak can be a bit chaotic during the high-stress Countdown weekends, but Leah always balances this with professionalism and grace. This weekend, the Factory Stock driver was able to land the No. 2 qualified position in Factory Stock with a 7.889 E.T. at 172.36 mph effort.
"If you look back to March and the Gatornationals, the first Factory Stock race of the season, we were two-tenths behind the leaders in the class, and I remember telling Kevin Helms, our crew chief, we'll be lucky if we even qualify for this race. That's how far off pace we were, and the lack of parity in the class. It's a testament to Dodge, MOPAR, DSR and this team. We knew we were challenged and we were still going to maximize all of our available opportunities with the power plant that we had. Hats off to NHRA for making pully adjustments and weight changes throughout the season to really tighten the class up. We weren't the fastest or the quickest, but we were able to completely turn our season around by never giving up.

Leah Pritchett – driver of the MOPAR Dodge Challenger Dragpak
For the first time in 2019, Leah would land in the finals of the Factory Stock class – making for a busy weekend. In the opening round of eliminations, she would face David Barton, defeating him with a 7.934 E.T. at 172.61 mph to his 7.948 E.T. at 172.74 mph.
Round two would match her against David Janac, where despite running a bit off-pace with a 7.978 E.T. at 171.97 mph, she was able to score the easy win over Janac's 8.821 E.T. at 119.16 mph.
In the semi-final, she captured the win in a tight race against Randy Taylor with a 8.012 E.T. at 171.36 mph over his 8.012 E.T. at 171.53 MPH. This placed her in the final against Chris Holbrook.
Unfortunately, her luck would run out in the finals. Leah's 8.017 E.T. at 171.16 mph was not enough to defeat Chris Holbrook who posted a stout 7.977 E.T. at 172.74 mph.
Leah Pritchett finished the season in the No. 9 position in point standings for the 2019 Samtech.edu NHRA Factory Stock Showdown.
"To finish the year with a Wally and a back-to-back win at this race would've been amazing, but the first thing I did when I got out of the car is high-five the guys, and thank them for not giving up and working extra hard to squeeze as much as we can out of these cars and this program. We fought hard today, almost had both of our cars in the final, and I'm excited about 2020. There was a moment in all of the chaos, running back and forth between both cars, that I reminded myself that I'm one of the few people in the world that gets to do that, so I make sure I enjoy it and use it to condition myself for other high-pressure situations."

Leah Pritchett