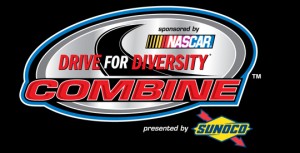 13 female racers will have three days to compete for a spot in the top driver development program, NASCAR Drive for Diversity (D4D), taking place at Langley Speedway in Hampton, Va., Oct. 19-21, 2015.   In total, 22 drivers were selected to take part in the combine.
The D4D program, currently in its 12th year, invites promising ethnically diverse and female drivers, ages 14 to 26, from across North America to test their skills over a three-day period in an annual combine order to select the newest members of the program for the following year.   Drivers are evaluated on their driving skills and strength and agility exercises. Those identified during the combine will take part in the diversity program for 2016.
"Finding and developing diverse athletes who will represent the future of NASCAR is at the core of our organization's mission," said NASCAR Senior Vice President of Racing Operations Jim Cassidy. "Every year, the bar is raised with talented applicants who have the potential and determination to succeed. We're proud to watch our graduates in the national series and develop more diverse talent to join them in the years to come."
Rev Racing, the Max Siegel-owned race team, partners with the D4D program to offer racing opportunities in the NASCAR K&N Pro Series East (NKPSE) and NASCAR Whelen All-American Series (NWAAS) for one full season, providing drivers with equipment, mentoring, and competition experience.
"We could not be more excited about this year's NASCAR Drive for Diversity Combine to select the 2016 Class of Rev Racing drivers," said team CEO Max Siegel. "Coming off of our 6th consecutive multiple race winning season, we are focused on continuing to make our program and approach world-class, as we prepare these young drivers to advance into the national series."
This year, 13 female racers Drive for Diversity, including the youngest combine participant ever at 14 years old, Macy Causey.
Fans can follow the Combine live on Twitter at @NASCARDiversity and @RevRacing.
Women of the 12th annual NASCAR Drive for Diversity Combine
Best of luck to each of these ladies as they attempt to make the 2016 Drive for Diversity Program!