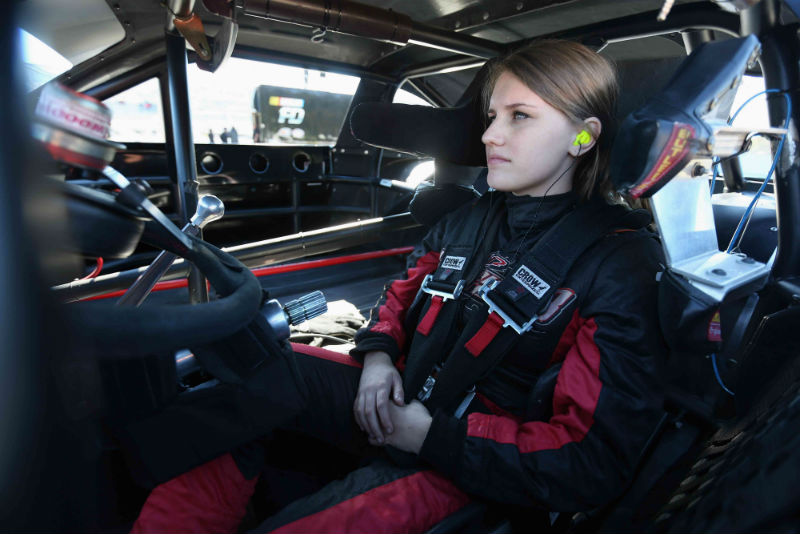 18-year-old Madeline Crane, a native of Meansville, Georgia, has just been instated into the 2016 NASCAR Drive for Diversity roster. She will drive for Rev Racing in the NASCAR Whelen All-American Series as part of the program.
Crane was originally named the first alternate after her performance in the October combine. She joins the NASCAR Drive for Diversity program in place of Juan Garcia, who will pursue opportunities in the NASCAR K&N Pro Series West.  Madeline and Ali Kern now make up the two female drivers on the 6 racer roster.
Madeline Crane – NASCAR Ambitions
Madeline Crane began her racing career in Bandoleros at 10-years-old in the Thursday Night Thunder Series at Atlanta Motor Speedway. She picked up two consecutive wins in her first season, quickly moving into Legend cars, and by the time she was 14 she had already garnered 59 top-5 finishes in just 82 starts, finishing the year as the Pro Division Winter Flurry Champion.
At the age of 15, she moved up again, racing Crate Late Models at Dixie Speedway. Madeline Crane finished her first season in Late Models second in points, before turning her focus to Super Late Models.
We are excited to have Maddie join our program," said Max Siegel, Rev Racing team owner. "Crane has continued to show growth year-after-year during her combine evaluation. We are ready to get her in the car and prepared for the season ahead."
Madeline Crane and her teammate Enrique Baca will hit the track on Saturday, March 19th at Hickory Motor Speedway in the NASCAR Whelen All-American Series season opener for Rev Racing.