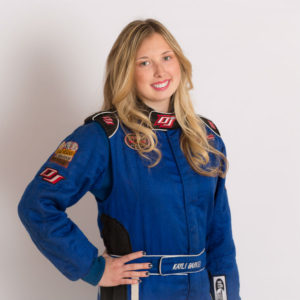 Las Vegas NASCAR® Whelen All-American Series Champion, Kayli Barker is set to run in the Lucas Oil Modifeds Military and Veterans Appreciation Night on May 21, 2016 at the Las Vegas Bullring thanks to a recently announced sponsorship by Las Vegas Car and Truck.
Las Vegas Car & Truck stepped up to support Kayli Barker's career and continued success in April, and have committed to backing her run in the Lucas Oil Modified Annual Military and Veterans Appreciation Night.
Barker made her debut run in the Modified category in November of 2015 at the Las Vegas Bullring and has won nearly 50 main events and a Super Stock Championship on the track. In addition to running the Modified race, she will be pulling double-duty, also running in the Super Late Model main on the same evening.   She currently is the lone female driver on the roster for the Modifieds in the 75 lap main event on May 21, 2016.
I'm looking forward to the challenge of running the two very different cars that night," says Kayli.   "The modified is about 350 pounds lighter than "Monster" my Super Late Model and also has a smaller harder tire which limits the amount of usable horsepower. The real challenge is good car control and tire management on my part, but I am confident and eager to get back in the Modified."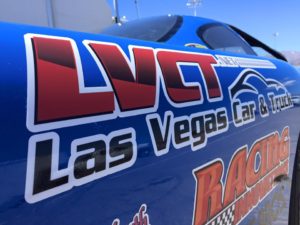 With her aspirations set on racing in the NASCAR® Truck Series, the eighteen year-old driver has already celebrated many milestones in her career, including being the 1st female driver to win three track championships in Las Vegas history and being the youngest female driver to win a NASCAR® Whelen All-American series race. In addition to her accomplishments on the track, Barker has been awarded the Ronald Reagan Presidential Foundation Leadership Award and NASCAR® UNOH Youth Achievement Award.
Kayli's championship performance and proven success as a Late Model Series Driver has shown that she is ready to step up to the Modifieds and we're pleased to be able to provide that opportunity for her," said Dan Walker, Principal Owner of Las Vegas Car & Truck.  "Her aspirations include joining the ranks of NASCAR®'s Truck Series and moving Kayli Barker to Lucas Oil Modifieds is a vertical step in helping her achieve that goal. Kayli is a positive role model for young racers alike and is an inspiration for all young adults who desire to win and conquer in life. One of our company's core values is supporting our local Las Vegas community and people like Kayli that make a positive impression on our valley's youth. As a Christian faith based business we're proud to support that Kayli's Christian faith is a strong moral compass throughout her life."
Currently a freshman at the University of Nevada Las Vegas, Kayli Barker made her NASCAR® Whelen Series debut in 2012 and brings a strong resume to the 2016 season. Barker will be racing her Dana Stahl, 2014 Chevy SS NASCAR® Super Late Model for the 2016 season and is hopeful for a continued slot on the Lucas Oil Modified H-Town Racing Roster for the remainder of the 2016 Lucas Oil Modified season.