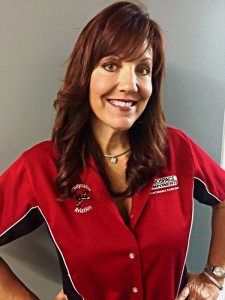 A biology and business degree graduate, pilot and racer who continues excelling to new heights as President and Chief Marketing and Finance Officer of racing industry staple Aerospace Components, the sky is the limit for Kim Kussy.
The daughter of a large family (she has 4 brothers and 2 sisters) raised in the Motor City, Kim Kussy has always loved the automotive industry.  The influence of her brothers and Dearborn, Michigan hometown would be evident in all aspects of her life.  She met her husband Al there, who himself grew up racing at local Milan Dragway.  As the two started their family and moved down to Florida, that love blossomed into a fast-paced life together.
Kim, who graduated from Tampa College with a degree in Biology/Medical Technologist studies and Saint Petersburg College with her degree in Business, had been working in the medical field as a medical technologist for almost 10 years when her and husband Al decided to incorporate Aerospace Components.  Initially, the business was centered around the Department of Defense, machining parts and components for defense systems, guidance systems, and the International Space Station.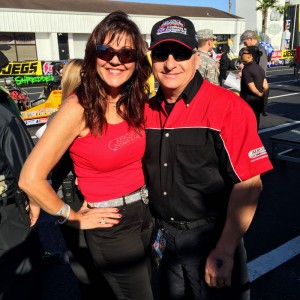 The two spent several years growing the business part time, while still continuing with their full time employers.  Within a few years, the duo found themselves tied-in with the drag racing industry, manufacturing components for racers.   This allowed them to be fully involved in the sport, building the first of many racecars to develop components they created.    It was this first build that would really inspire in Kim the passion for racing, and as the business grew, that love would involve the entire family.
When Al was building his first car at Aerospace, I caught the racing bug too. Having started himself racing at age 16, he taught me how to drive the race car.  It seem like a natural passion since we owned the company that manufacture the racing parts .  Just about all of our employees race so we basically lived at the local tracks in the first 15 years of business."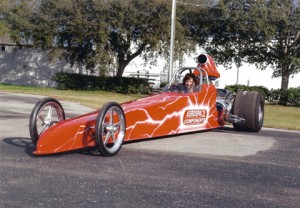 Taking those years of knowledge and experience, Kim was able to apply them to building a dragster with her daughters Breanna and Bethany, passing on this experience during their high school years as a family project.
I wanted them to know what we made and did for a living. Both girls got in the dragster and did some burn outs."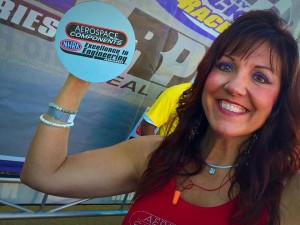 Kim has raced the dragster herself at local tracks in the region, adding that the entire Aerospace family has been a staple in the local racing scene for over 15 years.    They have owned dozens of racecars, and are now involved in the national racing scene, sponsoring the NHRA Wally program, with the special Aerospace Components Excellence in Engineering Award.  The award, voted on by NHRA's Technical Department, is given at 12 NHRA Nationals events to individuals or teams demonstrating a unique edge in craftsmanship or technology.    They are major sponsors for the National Mustang Racing Association (NMRA) and the National Muscle Car Association (NMCA) with the Aerospace Components Winner's Circle sponsorships and contingency programs.
Aerospace Components is approaching nearly 30 years in business, with no signs of slowing.   The process has been a rewarding one for Kussy, who loves the people she gets the opportunity to work with in the industry.  The road wasn't always an easy one — the couple started the business at a young age, and have worked hard to build and grow over the years with a group of loyal and hard-working employees that share in the passion.  For Kim, the added struggle of proving herself as an intelligent business woman in a male-dominated industry and not just the stereotyped friendly, pretty face were ongoing in the formative years.    She credits hard work and tenacity for her success in overcoming these obstacles and mounting a successful career that defies the stereotypes.
Both industries that I am involved in are basically a men's world — racing and aviation. Many of people don't believe women can race or fly or run companies as the entrepreneur, sometimes women are still being stereotyped in certain areas. But I believe as a woman, if you are competent at what you do that intelligence and passion shows forth. Now that I have been in the industry for 28 years, I believe men and women respect me for how hard I work, for who I am and what I have contributed to both industries."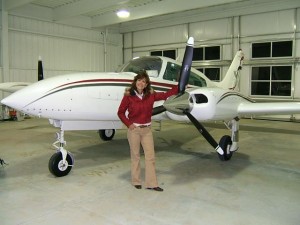 With her duties at Aerospace and at the racetrack taking her all across the country, Kim does a fair amount of traveling.    But she doesn't leave this up to commercial airlines.  Kim and Al also own their own aircraft, and Kim earned her private/instrument pilot's license in 2000.   She is one of an elite group of women – only 6% of general aviators in the United States are women, and intends to advance her ratings as time permits.
I am very privileged and honored to be able to be among these women. It takes, a passion for flight, intelligence, courage, time and money to fly and own planes."
With so many accomplishments to her name, it's hard to imagine Kim having much downtime.  Yet she still finds time to support charity organizations in her community such as Women of Compassion (a non-profit that assists orphans in the state of Florida) and Shepard's Village, a Christian organization dedicated to supporting single mothers.
I've been so blessed by God with my life with all that I am able to accomplish that I want to give back and help encourage the children and single moms that they can make it. I did it with God's help and love of other who invested in my life!  …I was raised in a single parent home after 11 years old. My father died of cancer when I was in 6th grade. so my mom raised the 3  youngest by herself. I know how these kids feel in single parent homes, love and support of family and friends really matters."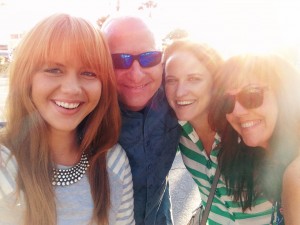 Kim shared that mastering the balance between her full plate of duties for Aerospace, home life with family and raising her children, along with all of the other ventures she has pursued has been the most instrumental to her success.
DREAM BIG and don't give up! The beginning years are some of the hardest, especially if you are married and or raising children.  Work hard and Play Hard!  Take time to rest and enjoy family and friends. Surround yourself with others you can trust, those who love you and who will encourage you during the hard times. Set goals, short term for your racing career as well as long term. Don't be afraid to seek wise counsel from a few key leaders you trust in your industry who have walked the path you've walked. Attend conferences, read alot and never stop learning on how to grow stronger in your racing career."
Kim continues to set new goals for herself and the business, whether its researching new product development, learning new marketing strategies to reach, connect and communicate with customers, or hitting the dragstrip for some racing competition.    Her latest project, Kimmy's Garage, features educational videos on Aerospace products and installations.

Whether in the skies, at a race track near you, or in the office growing Aerospace Components, one thing is sure, the sky is hardly the limit for Kim Kussy.