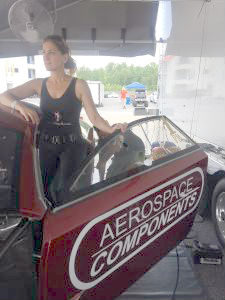 Ladies supporting and working together is one of the most key elements of success for women's advancement in automotive and motorsports.   Recently, two very important women in drag racing have joined forces to align and support one another in the racing industry.
2015 IHRA Crower Pro Modified reigning World Champion, Dina Parise and Aerospace Component's President, Kim Kussy have just announced a very special mutual partnership for the duration of the 2016 season.  Parise joins forces with Aerospace Components on her award-winning Cadillac CTS-V Pro Modified, nicknamed "Stella".
When Kim (Kussy) and I first met, we hit it off. Two hard working women in this amazing industry both loving every minute of it. What's not to like, right?", said Parise of her first meeting with Aerospace Component's President, CMO and co-founder, Kim Kussy.
With the Dina Parise Racing team's longstanding history of advocating and supporting our nation's veteran population and active military, the two ladies shared a mutual passion for our United States Armed Forces.  Aerospace Components began as a MIL-Spec certified contractor for government projects, and is proud to employ many veterans in their facility.    Parise has campaigned several tribute racecars that help honor and celebrate the sacrifices made by our service men and women.   They participate in many events in support of veterans – both publically and privately.
I have always said it's not about getting to the stripe first," Parise says. "But the journey you take to get there".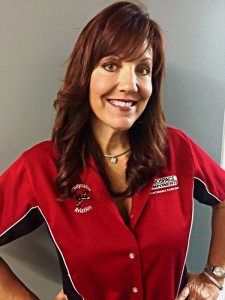 Since their military roots, Aerospace Components has involved to become a very active supporter of the Drag Racing industry.  They are a contingency supporter of the National Mustang Racer's Association and the National Muscle Car Association, rewarding racers in contingency awards on 5 products (Brakes – Front and Rear); Vacuum Pump, Water Pump, Fuel Pump and Shifter) in all classes and series with Promedia for the past five years.  They also sponsor the Aerospace Winner's Circle for all the Promedia series and events.   In addition, Kim works closely with the NHRA to award a very special " Aerospace Component's "Excellence in Engineering" Wally award at select national events.
Both Dina and Kim have built a very dedicated and engaged community of fans and customers through their social media outreach efforts, sharing success of their peers and customers.
Dina interacts regularly with fans through special live videos of her time on the road with the rest of the Dina Parise Racing team and other special messages, often touching on important topics she feels passionate about.    Kim hosts a video series entitled "Kimmy's Garage" that teaches and educates consumers about their products, how they are made and installation instructions.
The female racing powerhouse partnership between DPR and Aerospace Components is an exciting new development that both are looking forward to showcasing to the industry. Aerospace Components joins other key supporters of DPR in Eastwood, CRC Auto, NGK, Lucas Oil, Speedwire Systems, Hussey Performance, Hoosier, Motorsports Unlimited and Crank It Media.