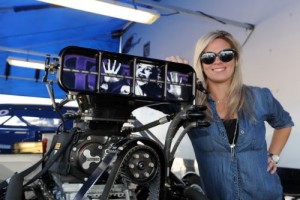 PDRA Pro Boost racer Melanie Salemi will celebrate the end of her rookie Pro Mod season at the PRI Show this week in Indianapolis, IN.    Melanie and her beautiful G-Force Racing 1968 Pro Boost Firebird will be on display in the Ross Pistons Booth #1801 December 10-12, 2o15 at the racing industry's largest tradeshow.
Melanie Salemi's Rookie Pro Mod Season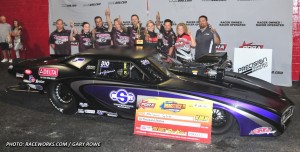 Melanie took on the tough competition all season long in the PDRA's Pro Boost class, earning her first win in just her second start in the class at the Dragstock XII event in Rockingham, North Carolina.   Salemi qualified #3 at the event, before running consistent 3.86 second elapsed times through the eliminations rounds, taking out Anthony Disomma in the final to become the first woman to earn a professional victory in the PDRA's Pro Boost class.
It's been an awesome experience to say the least. I know it's cliché but my team is so great. I don't really feel that there is another team as versatile as ours. Every aspect of this car is built and maintained under our own roof. Engine, chassis, tuning, maintenance and management, It really is a one stop shop.  Without the effort from my entire team this just wouldn't be possible. I feel it's huge advantage and has all of us very excited for 2016 and beyond", stated Salemi.
Salemi plans for 2016 season
The Melanie Salemi Racing team isn't sitting idle during the off-season.   They plan to switch their combination to an electronic fuel injection system with the support of Fueltech USA to maximize engine efficiency and allow them better tuning control and management on the track.   They plan to begin on-track testing in January with the new combination after they conclude extensive dyno testing on their in-house engine dyno.