Buffalo, NY based drag racing driver Melanie Salemi and her Melanie Salemi Motorsports Pro Mod team entered the 2016 Shakedown at the Summit last weekend with high expectations to take home the richest Pro Mod purse in the history of the class.   Summit Motorsports Park Owner Bill Bader Jr. vowed to make the "Shakedown" a race that everyone would place on their schedules for years to come because simply "you just can't afford not to be there."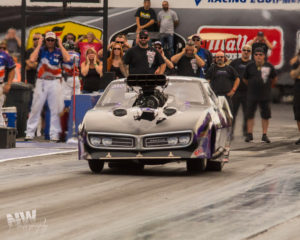 Salemi started the Shakedown at the Summit strong, netting a No. 4 qualifying position in the rain shortened program with a 5.91 at 238 mph.   The weather cleared on Sunday morning and sun was shining, so it was time to "Put up or Shut up" in true Shakedown lingo.
Melanie stomped through the 24 car field with a string of 5.87 second performances, eliminating fellow competitors RubenT, Bruce Boland, and Billy Harper in her wake.   In the semi final round, she dispatched fellow Canadian and friend Wes Goddard with a 5.86 @ 242 mph to Wes' 5.87 at a fast 252 mph.
This set the Shakedown at the Summit finals to be a blower vs. turbo battle for the money and the glory.  Salemi would match up against the turbocharged entry of Kevin Fiscus, and the pair left almost dead even in reaction time on the tree.    But Fiscus pulled away after Melanie experienced tire shake at the hit, trying to pedal and regain traction to no avail.
Although it was not Melanie's day for the big Shakedown at the Summit win, she showed her skill on the track all weekend and was stellar on the tree to advance through 4 tough rounds of competition.
I am just really excited that I get to race with these guys a lot of them have way more experience than me in these cars and I'm really happy that I can class myself as one of them," stated Melanie. "My guys send me down the track with a perfectly prepared car each time and it makes my job that much easier. I don't know if there is a harder working bunch of guys in this sport. We have had a lot going on the past couple of weeks and I owed it to Jon, Jim, Mike and the rest of our crew to do my job on the tree and go rounds last weekend."
Although Melanie didn't take home the Shakedown 14 title, she took home more experience in the ¼ mile and posted one of her best racing weekends to date in the books.
Watch for the Melanie Salemi Motorsports team at their next outing at Virginia Motorsports Park, October 21-22 at the 2016 PDRA World Finals and then their final event of 2016 will be The Street Car Super Nationals in Las Vegas November 17-20.