Chevrolet unveils Courtney Force COPO Camaro concept at the SEMA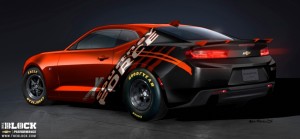 After a major switch for John Force Racing to Chevrolet in 2015, decorated drag racing standout Courtney Force was thrilled to unveil the first ever sixth-gen COPO concept inspired by her NHRA Funny Car.
The ultra-modern styled machine infuses legendary COPO performance with the new, modern design of the 2016 Camaro.  The special SEMA edition concept was personalized by Courtney Force herself,  and will be auctioned off at Barrett Jackson to benefit the United Way.    Limited production of the COPO program returns in 2016, with only 69 available spots to purchase the COPO production units.
The fifth-generation COPO Camaro concept first debuted at SEMA in 2011, where an overwhelming demand spurned a limited, special-edition production run.  Its success continued in 2012, 2013, 2014 and 2015.   2016 will see 69 additional sixth-gen COPO Camaros headed to the drag strip to carry on the COPO tradition.
To generate excitement for a 2016 COPO Program return, Chevrolet enlisted its newest partner in NHRA driver Courtney Force (a fifth-gen Camaro owner).
"We're taking the equity that Courtney has in drag racing and bringing that into our COPO series. It's a very fun and exciting project," said Todd Parker, Director of Design.
The exterior of this COPO Camaro Concept highlights a Red Hot exterior color, with the familiar John Force Racing Next Gen styling on the rear quarter panel.   Red trim accents mirror her signature Traxxas Funny Car livery, a modified SS rear spoiler was redesigned with spill plates inspired by the Funny Car's massive rear wing, and Goodyear tires were used likening to the slicks on Courtney's racer.
"This car was a little bit challenging because we're trying to show the first sixth-generation COPO, but at the same time flavor it with Courtney's personal preferences," said Parker. "There was a balance that we needed to achieve and we think that we found it." It took Courtney several iterations and options before she finally landed on the exterior color. "Her Traxxas funny car has every color under the sun, so to get her flavor took some time," said Parker. "Plus, the sixth-gen version of COPO looks so dramatic in just about every color."
Sadly, the Courtney Force COPO Camaro concept is not available for any of the production COPO units.
COURTNEY FORCE COPO CAMARO SPECIFICATIONS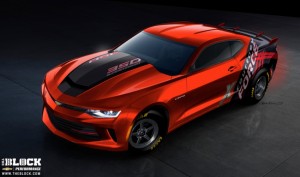 Exterior:
Red Hot exterior with Switchblade Silver and Satin Black graphics

Courtney Force's signature JFR Racing graphics

Red lower grille trim

High-rise carbon-fiber hood

Outside rear view mirror delete with painted closeout

Wheelie bars and drag parachute

Unique rear spoiler

Custom smoke-finished Weld drag wheels

GoodYear® Eagle drag tires
Interior:
NHRA-certified full chrome-moly roll cage

Lightweight bucket racing seats with custom embroidery

Floor-mounted shifter

Specific instrument panel-mounted analog racing gauges

Center stack mounted racing switch panel

Five-point safety harnesses (driver and front-passenger)
Performance:
LSX-based 350 cu. in. supercharged engine

Available engines: LS-based 427 cu. in. naturally aspirated; LT1-based 6.2L naturally aspirated

THM 400 3-speed automatic

Front suspension: lightweight adjustable front struts

Rear suspension: multilink

Adjustable coil-over shocks, panhard bar and anti-roll bar.

Rear axle with an aluminum center section, 35 spline spool and axles

Brakes: manual lightweight rotors and calipers

Integrated line lock

Manual rack-and-pinion steering

Fuel storage system with fuel cell and built-in high pressure fuel pump

Dedicated racing wire harness
Source:  ChevySema.com