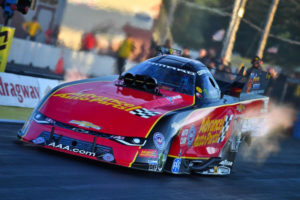 An already dominating Funny Car season has Advanced Auto Parts driver Courtney Force focused for Mile High action this weekend at the 39th Annual Dodge Mile-High NHRA Nationals. Force and her Advance Auto Parts team have scored eight semifinal finishes in the first thirteen races of the season, with a career best four wins and eight No. 1 qualifiers. The current NHRA Mello Yello points leader for the last seven races has only qualified outside of the top four one time in 2018.
"I am excited to head back to Denver to kick off the Western Swing. We were No. 1 qualifier the last two years at Bandimere Speedway," said Force. "This Advance Auto Parts team had an early exit last season but we have also raced to the finals in Denver. That is the kind of success we are looking for with this team. We want to extend our points lead and start the Western Swing on the right foot. We are really excited to be on the West Coast and looking forward to a great weekend."
Force has two runner-up finishes in her career at Bandimere Speedway, including a
side-by-side race in 2016
against her father John Force who took his win in a photo finish victory. Her rookie season landed her in the final, but funny car veteran, Jack Beckman denied her first career victory. Force would pick up that win a
few weeks later in Seattle.
"It is always fun to race at Denver. This track is tricky with the altitude. It creates a challenge for all the teams and it makes it exciting for the fans. It really does challenge everyone on the team to be at their best. I think this will be a great weekend for our Advance Auto Parts team," said Force.
Courtney's father, John Force, is the only funny car driver to ever sweep all three races on the famed and often grueling Western Swing of the tour. Denver's Mile-High event marks stop one of the Western swing. Courtney Force focused for Mile High competition is one of the favorites to join her father as a driver capable of winning three races in a row. With previous win experience in the Sonoma and Seattle venues to her credit, a strong showing this weekend could continue to add her name to the record books.
"We are just going to take each one of these races one at a time," said Force. "You can't sweep the Western Swing if you don't win in Denver this year. We have an amazing crew led by Dan Hood and Brian Corradi. I know they will give me a great race car. We stumbled a little in Epping but that is behind us and now we are focused on running like we did last season on the Mountain."
Last year, Force left Denver with the track elapsed time and speed records for Bandimere Speedway with a blistering 3.889 second, 328.30 mph run. That kind of performance at mile-high, horsepower robbing altitude was something no one thought feasible just a few short years ago. But Courtney Force has made a career out of exceeding expectations, and this season she is focused on adding a National Funny Car championship to her list of accomplishments.
The 39th annual Dodge Mile-High NHRA Nationals begin with qualifying
on Friday
and
Saturday
with sessions at
6 and 8 p.m.
on both days. Eliminations are set to take place
Sunday
at
11 a.m.