For the past several decades, the name Force has always been synonymous with Ford Racing.    Whether you are a drag racing fan or not, chances are you know John Force Racing as the longstanding ambassador of Ford Motor Company.
John Force Racing Chevrolet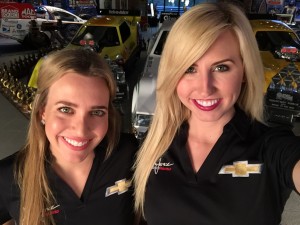 I've only been involved in the sport for 15 years, so a world without Force/Ford Racing is a foreign one to me.   I was saddened when Ford announced in 2013 that they would leave drag racing and JFR at the end of 2014.   Although I knew this day would come, it is still a tough pill to swallow to imagine the Force name pulling into Pomona in anything but a Blue Oval.
But all good things must come to an end, and where one legacy closes, another chapter begins.  Today, the much anticipated announcement was made:  John Force Racing will be running under the Chevrolet brand for 2015 and beyond.
I'm not sure what emotions this will stir come the start of the 2015 Mello Yellow NHRA Drag Racing season opener, but on the bright side, it speaks good things about the sport to see a sponsor with such a large involvement and presence come into the fray.
Force's Ford and Castrol sponsorships spanned many decades, a testament to the work and value he delivered to his partners.   While many (including myself) were sad to see Ford depart, you have to give credit and thanks for the many years of memories that these partnerships provided to us, the fans.    It is truly a testament to the work of Force and the sport of drag racing that such an enduring relationship thrived.   Its also one that should be studied by us racers, as a good example of sponsor retention.
Now the question…. who will cut their Blue Oval ties to don a Bowtie in support of John Force Racing Chevrolet?