Mustang Girl Monday: Erica Ortiz Is Ready To Come Back To Racing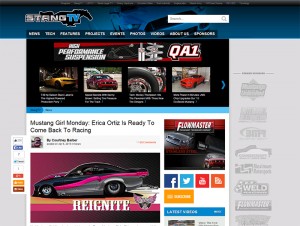 StangTV.com caught up with Horsepower & Heels driver Erica Ortiz to talk about her return to heads-up racing with her twin turbo Mustang project, and her history/background in the sport in an article posted by Courtney Barber.    The article is part of a weekly Mustang Girl Monday feature, organized by Team Mustang Girls.   It goes into detail about Erica's Fun Ford Weekend and NMRA True Street and Drag Radial class racing successes , her journey into Pro 5.0 and Pro Modified, and what took her away from racing for several years.
Read the article:  http://www.stangtv.com/news/mustang-girl-monday-erica-ortiz-is-ready-to-come-back-to-racing/
StangTV
StangTV.com is an online Ford Mustang Magazine – the go-to source for news, rumors, tech articles and videos on America's favorite pony car. Founded in 2006, StangTV.com has only one objective – to inform, educate, and entertain readers through daily updates on Late Model Ford Mustangs and other Fords.
Published:  April 6, 2015