Another Fast Women Friday!   This week is the SEMA Special Edition, so I'm sure there's tons of cool new things to share!
Last week was a slow week, but we heard from a few new women for Fast Women Friday #2.
Kelly Morris stopped by to share her Kelly Morris Racing page.  Kelly is building her own drag racing ride, and helps her dad in his shop working on and building cars for drag racing competition.  Kelly has big dreams to pursue in racing, and she's just getting started on her journey.  Stop by and check her out on her Facebook page, and stick around to stay tuned into her career progression.
Gina Woods returned to share her Feel the Horsepower Chocolate Bar project.    Tired of the same terrible food choices that typically represent the average track/bike rally events, Gina wanted to create something she could take with her on the go for a healthier, tastier option.   These new healthy chocolate bars are not only delicious, but a great nourishing option for the horsepower-fueled lives of those constantly on-the-go and living life in the fast lane.
11 year-old Flyin' Faith, a racer from Washington, stopped in to share her website with us.   Faith has already been racing for 6 years, and is doing a great job!   She was named rookie of the year this season in the bandit division of the Bandolero's at Spartan Speedway, finishing 3rd in points and attending every race.
Fast Women Friday: SEMA edition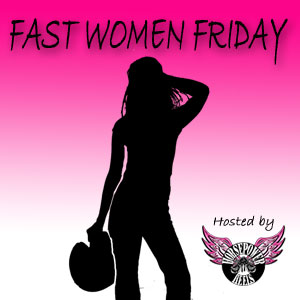 This Fast Women Friday Link Party  is hosted to feature more amazing content and resources that help and highlight female racers, women working in motorsports, and any of the ladies in the automotive/gearhead spaces.
This week, the SEMA show is dominating headlines in auto and motorsports worlds, we can't wait to see what everyone is raving about!    Got something interesting to share?   This is a great way to mingle and discover others around the net who are just as passionate about Women in Motorsports!    Join up below!
How this works
The party will be open through next Tuesday evening to share your posts and other content related to or helpful for Women in Motorsports or Automotive.
Each week, we'll feature the most popular finds from the party scene + share them to our social circles. Sharing is caring, it's how we all grow!
To enter your posts, just click the You're Next link below (under the party posts).   They will automatically update onto the party space.   You can share your race news posts, your personal pages, or anything that relates to women in automotive.
Be sure to visit other party goers blogs and comment – mingle with the party attendees!   Fast Women Friday is about connecting and interacting with others!
I'd love for you to give a little share love to this party post and invite your friends!   Feel free to use the graphic above and link back to this post.
HAVE FUN!
Fast Women Friday SEMA Edition Party Posts