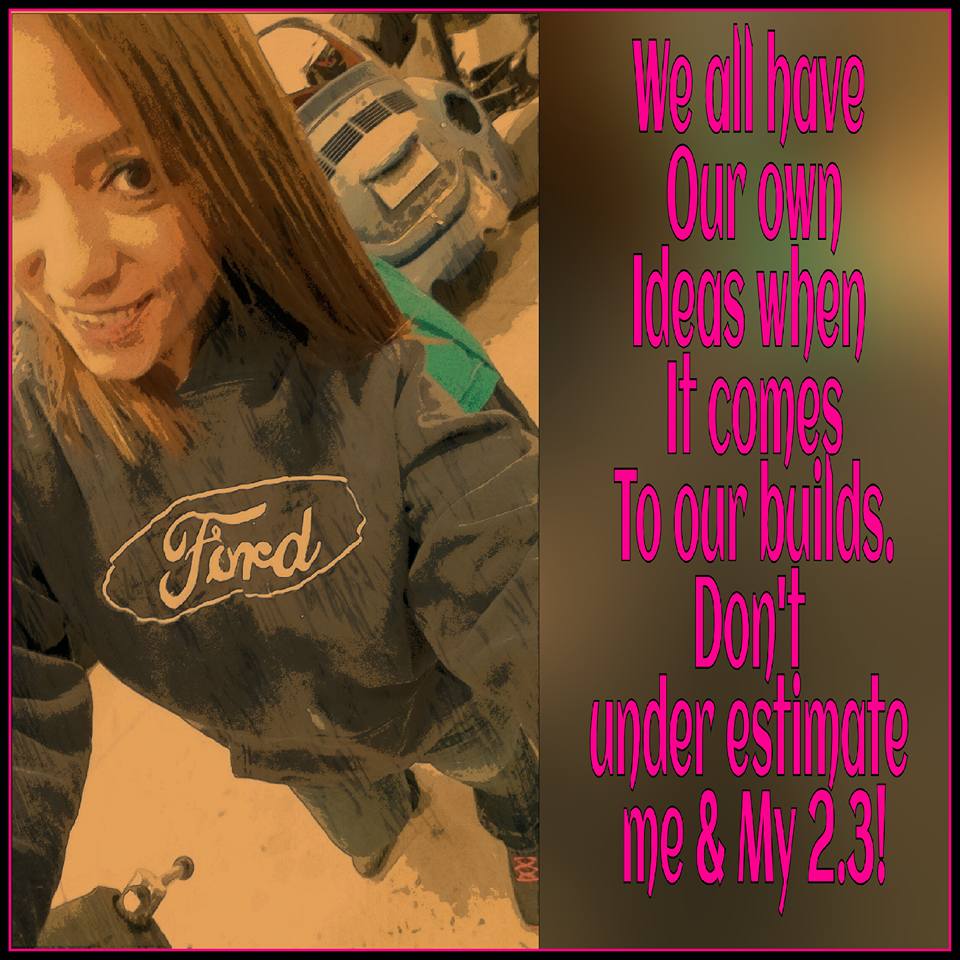 Our very own Horsepower & Heels staff contributor Kelly Morris has been busy in the shop working on her own project – a 1982 Mercury Capri drag racing build.    
With the help of her family and friends, Kelly is learning first hand about drag racing by taking part in her own race car build.   The plan: a mid 11-second turbocharged 2.3L powerplant that will give Kelly some great experience both on the track and in the engine bay.
Kelly Morris 2.3L Engine Build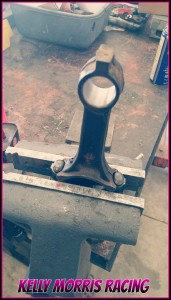 This week, Kelly tacked assembling the bottom end of her 2.3L turbo engine.    After sending the stock crank out to RPM Machine Inc. to be cleaned and polished, and the stock block also sent out to Tim McMasters Machine Shop to be bored 0.030 over, Kelly got to work on honing the stock connecting rods to ensure a snug fit.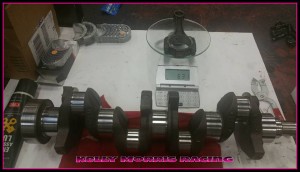 ARP provided new hardware for the bottom end, new main and rod bearings were sourced, along with rings for the new pistons, and by the time the crank and block returned, Kelly was ready to begin assembly on her short block.    She set to work measuring and weighing the crank, rods and pistons.     A brand new set of Icon forged pistons were selected to handle additional boost by the turbocharged powerplant.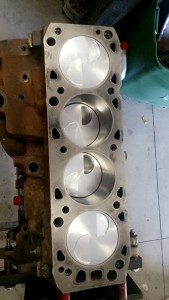 Kelly took her time and great care during the assembly process.  By turning the crank by hand, they were able to verify that the finished product had the piston clearances exactly where they wanted them.
It has been an exciting experience for me," said Kelly of her first engine build.  "I thought taking it apart was the best part. But actually seeing it slowly pulling together like a puzzle has been. I'm excited, and I am pretty anxious (to finish), even though I know I have to take my time & be patient."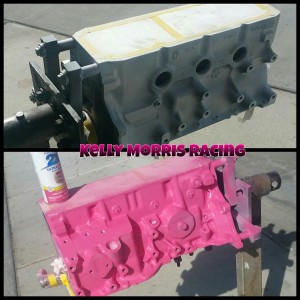 With the rotating assembly in place, Kelly decided to give the block a finishing touch, and a little extra dose of personality.   She carefully prepped and taped off the newly assembled block and laid down a couple coats of engine paint.  But instead of the standard Ford Blue, Kelly opted for a Bright Pink color for her 2.3L engine block.
"I'm very pleased," 

said Kelly on her Pretty in Pink engine painting handiwork.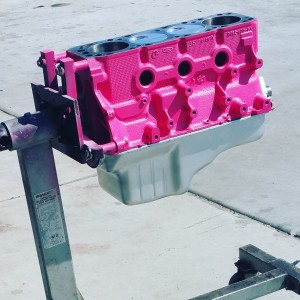 The finished product: a bright pink block ready for the next steps of the build.
Next up, Kelly plans to assemble the upper engine/valvetrain. Kelly Morris' 2.3L engine build will retain the factory cylinder heads, ported with a combo of Manley  1.89 intake/ 1.95 exhaust valves and Comp Cam Beehive Valve Springs, paired with an Esslinger 2267 cam (242/ 0.460 lift).   The extra fuel demands will be met by a Stinger Fuel Injection system with 80 lb. fuel injectors.   Extra boost will come courtesy of an upgraded T4 turbocharger with a .70 AR Compressor trim and .84 AR exhaust trim.
All her hard work will pay off soon enough, when she is able to take to her local dragstrip in a car she 'built, not bought' herself.
One thing is certain, there is no one underestimating Kelly Morris and her 2.3L Mercury Capri!