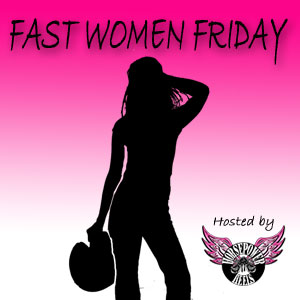 Welcome to the first ever  FAST WOMEN FRIDAY!
Horsepower & Heels is passionate about celebrating, supporting and promoting Women in Motorsports and Automotive.    Every day, women all over the world are breaking barriers and making amazing contributions to the motorsports and automotive industries.  We want to share these stories!
Fast Women Friday Linky Party
There are lots of great people, blogs and resources out there devoted to Women in Motorsports and the Automotive industry.   I've decided to host this Fast Women Friday Link Party to feature more amazing people, blogs and resources that highlight female racers, women working in motorsports, and any of the ladies in the automotive/gearhead spaces.
Got something interesting to share?   This is a great way to mingle and discover others around the net who are just as passionate about Women in Motorsports!    Join up below!
How this works
The party will be open through next Thursday evening to share your posts and other content related to or helpful for Women in Motorsports.
Each week, we'll feature the most popular finds from the party scene + share them to our social circles. Always encourage you to do the same.
To enter your posts, just click the You're Next link below (under the party posts).   They will automatically update onto the party space.   You can share your race news posts, your personal pages, or anything that relates to women racing, but please NO SPAMMING.
Be sure to visit other party goers blogs and comment – mingle with the party attendees!   Fast Women Friday is about connecting and interacting with others!
I'd love for you to give a little share love to the party and invite your friends!   Feel free to use the graphic above and link back to this post.
HAVE FUN!
Fast Women Friday Link Up Party Posts