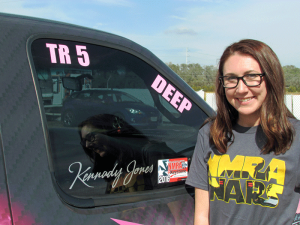 19 year-old Kennady Jones is trucking along in her 4th season of racing the NMRA Truck & Lightning class.    
She was first introduced to drag racing by her grandfather years ago, and the racing has become a family affair that has rubbed off on the younger generation.  Seminole, Florida resident, Kennady Jones began racing before she was legally able to drive, but it was on her 16th birthday that her racing career would really take off – after her grandfather gave her the truck she races in NMRA Truck & Lightning today as her 16th birthday gift.
Kennady Jones – NMRA Truck #5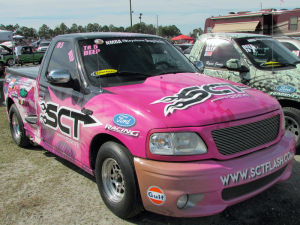 In the beginning, the truck was kept stock – allowing Kennady to practice and learn while she took on her rookie season of NMRA Truck competition.    In 2013, she would earn the 2013 Rookie of the Year recognition from the NMRA – a huge honor awarded to one rookie racer in the series at the annual year-end banquet.
Now, a full time student at St. Petersburg College, Kennady Jones stays busy studying for her Business / Marketing degree.  She also works full-time as a member associate at the YMCA.  But on the weekends, she is ready to hit the track to perfect her skills at the tree and down the track.  Her truck has evolved too, now featuring a GT500, Kenne Bell Supercharger, Kooks Custom Headers and other modifications that help the truck into the low 12 second zone on the track.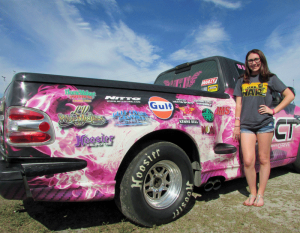 Though she has yet to see her first Truck event win, Kennady has one runner-up finish and two semi-final appearances to her credit.   She finished the 2015 season in 5th place for the NMRA truck points championship, and hopes to improve on that standing in 2016.
I love the Truck class.  I'm comfortable here, but still have lots of room to improve," says Kennady of her racing ambitions.
Double-Duty | NMRA Bradenton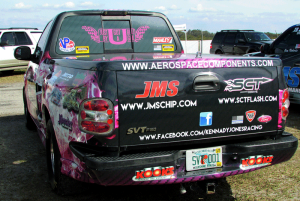 At the 2016 season opening NMRA race, the 22nd Annual NMRA Spring Break Shootout, Kennady decided to pull double-duty by not only entering her truck into Truck & Lightning competition, but would also jump into an 2014 Escape for the Ford Muscle class.
In her SCT sponsored truck, she qualified No. 13.  She would end up running a 12.119 @ 113.80 mph in Rd. 1 of eliminations on her 12.05 index, but would not advance to the second round.
Kennady fared better in Factory Muscle, qualifying No. 9.   In Rd. 1, she would run a 15.586 @ 89.11 mph on a 15.50 index, advancing over Stephanie Davies.   But she would fall in round 2, running a 15.917 @ 89.12 mph to Danny Towe, who went on to win the event.
The season has only begun, but Kennady Jones hopes for another great year in the truck class.   She next travels to the 8th Annual Borla NMRA/NMCA Nationals at Atlanta Dragway on April 7-10, 2016.
Best of Luck to NMRA Truck racer, Kennady Jones!
We hope to see you in the Aerospace winner's circle soon!