Erica Enders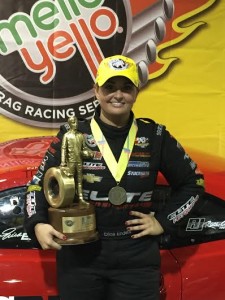 couldn't have had a more perfect weekend for the 27th Annual NHRA Kansas Nationals at Heartland Park in Topeka, Kansas.   Her Elite Motorsports team scored a dominant victory, capping a perfect weekend with a top qualifying spot, the quickest performance of every round of racing-both qualifying and eliminations, and the championship points lead leaving the event.
The last time we did this was Norwalk (Ohio) last year: We qualified on the pole and were low e.t. every round of qualifying and every round of eliminations," Enders said. "It's definitely a feat, especially in Pro Stock, as competitive as it is. Hat's off to my guys; they are absolutely incredible.  It speaks volumes of what they're capable of when they're given the tools that they need, and that's what (team owner) Richard Freeman has provided them. I'm just really proud."
Quickest qualifying Pro Stock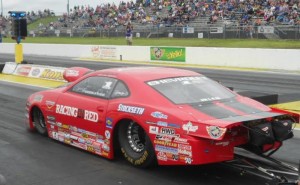 She began the weekend with a strong qualifying showing, nabbing the No. 1 position in qualifying in a rain-shortened three attempt program.    This brought back memories of 2006, the same place where she earned her first No. 1 qualifier to become the first woman to secure the Pro Stock pole.
It's pretty cool," Enders said. "I thought about that coming in here on Thursday, so it definitely was a fun memory here, becoming the first female No. 1 qualifier in Pro Stock. We've gone on to do some really great things (with Elite Motorsports)."
Enders led all three qualifying sessions — the fourth was rained out — with her top pass of 6.150 seconds at 211.43 mph earning her the No. 1 spot. She earned nine bonus points by being the quickest in each qualifying session.
I'm always confident in my guys," Enders said. "They give me a very consistent race car, and that makes my job a little easier, to where I just focus on driving and not wonder what the car is going to do — if we're going to blow the tires off, if it's going to hook right or left. Being low for every session is pretty exciting. We were able to do that some last year and accumulate those three bonus points per round that you're low. Coming to the final race of last year, every point mattered, so we'll take 'em when we can get 'em."
Dominating Pro Stock Eliminations
First round, Enders was paired against No. 16 qualifier Mark Hogan.  She posted a 6.579 second pass at 209.10 mph, good for low of the round and beat his 6.855-second run at 201.58 mph.  In round number two, she faced off against noted starting-line ace Jonathan Gray, who left with a .005-second reaction time, but Enders .013 light and 6.586 at 208.78 mph run was enough to blow past Gray, beating his 6.607 at 208.68 mph.
Larry Morgan left with the starting line advantage against Enders in the semi-final round, cutting a brilliant .007 light, but Enders ran him down with a 6.579-second pass at 208.94 mph to beat his run of 6.609 seconds at 208.68 mph.
I missed the Tree a little bit against Larry Morgan," said Enders, whose reaction time was .030. "I knew I was late and was looking over to see where he was. It was only a seven-thousandths margin of victory, so I guess if we had a lucky round, that was it, for sure."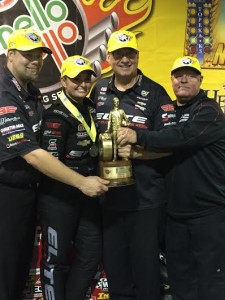 Then came long-time rival Greg Anderson, who had bested Enders in the semifinals at Atlanta Dragway in the previous event. This time, Enders ripped off a .009-second reaction time to Anderson's .020 and then made a pass of 6.584 seconds at 209.33 mph to beat his 6.591-second run at 209.14 mph.
"He congratulated me down there," Enders said. "He doesn't like to lose to anybody; he's got a very competitive spirit. We all do in Pro Stock. But everything's cool, and I'm proud that we got the win. He got us (in Atlanta) and he outran us, so I was happy to pay him back just a little bit, but all in good fun."
All of this on a relatively new car set-up, one that Enders just returned to one race previously.   This win marked the first for the new R&J Race Cars Chevrolet Camaro.    The Elite team began the season with the new car, but made the call early on to tackle new fuel/tires mandated by NHRA rule changes in the tried-and-tested championship chassis she campaigned in 2014, before switching back in Atlanta.
We've had an awesome weekend.  It's a brand-new race car and our second race in a row with it. We're just trying to get a handle on it, and my guys have done a great job.  To be honest, I didn't want to let go of the car I drove last year because we had such an awesome relationship," Enders said. "We had a lot of success together. We've had 29 runs on this car, and it's still very new and we're still learning all about her. Rick and Rickie Jones built it and it's a tremendous masterpiece, and we're just going to get better and better."
Enders leaves Topeka with a 59-point lead over Jason Line, who lost in the first round, in the NHRA Countdown to the Championship chase after eight of 24 races.
Because I had never led the Pro Stock points in my career until last year, I remember I screen-shot it every week because I didn't know if that would disappear or we'd ever get back in that position, but because of my guys and what Richard Freeman has given us, we've been able to accomplish a lot of great stuff together.  It's cool to be back on top, but it's been a long, grueling season. Pro Stock is so competitive, and we'll do our best to stay on top."