Today marks the halfway point in the Rallye Aïcha des Gazelles.   After 3 stages, the teams are feeling the effects physically, mentally and mechanically.   L4– Rallye Aïcha des Gazelles 2016 should be a welcomed respite.   Part of the ongoing Coverage of the 26th edition of the Rallye Aïcha des Gazelles du Maroc  – the all-woman, off-road rally raid that brings women between the ages of 18 and 65 from more than 30 different countries together in the Moroccan desert.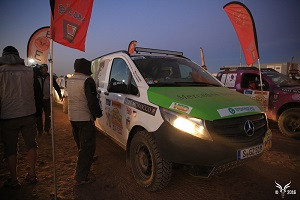 L4– Rallye Aïcha des Gazelles 2016
Monday, March 28, 2016
The marathon L3 stage proved very discouraging for many Gazelles.  Several sustained injury, others were unable to reach checkpoints before returning.  Mechanical breakdowns were plentiful and fatigue set in with grueling cracks and terrain that assaulted their kidneys, necks and tired bodies.     But L4– Rallye Aïcha des Gazelles 2016 promises a reprieve, with wide flat zones, some hilly terrain and easy to navigate plains.   
Distance will be the main challenge today, the Gazelles must try to cross the last oued to reach the base camp before nightfall.    The cracks of the oued are difficult during the day, and prove almost impossible by night.
IZOUGGUERHN / IZOUGGUERHN – Ideal distance 160 km – Estimated time 9:00 7 CPs – Looped leg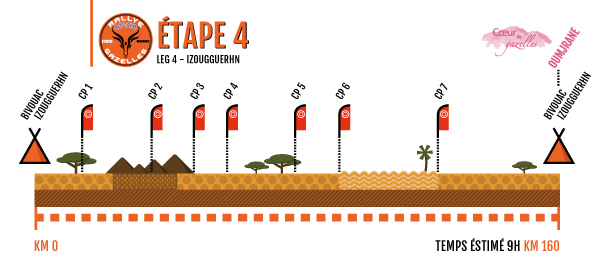 Follow along live:  http://www.rallyeaichadesgazelles.com/en/Rally/2016/live/