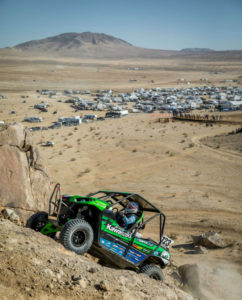 The all-female OffRoad team "Teryx Girls" – Driver Sara Price & Co-Driver Erica Sacks – have spent the past 12 months anxious to return to Hammertown and better their result at the King of the Hammers. The toughest one day off-road race on the planet, The Teryx Girls are the only all-female team contesting the 2017 King of the Hammers event.
Last year, the duo impressed thousands of spectators in Johnson Valley, California as they sped through open desert and found unique lines through some of the technical rock crawling sections of the 2016 King of the Hammers course. Starting the 2016 event in the 20th position, the Teryx Girls came out of the desert section in 12th place going into the rocks, and made quick work of picking off enough cars to run in a 5th place spot before breaking out of the race.
"From the moment we realized we weren't going to finish last year, we've been thinking about how this year we were going to get the job done," said Price. "We could hear everyone cheering for the Teryx Girls last year and I expect we will see even more fans out in Johnson Valley this week. This race is as tough as they come and I know Teryx is up for the challenge."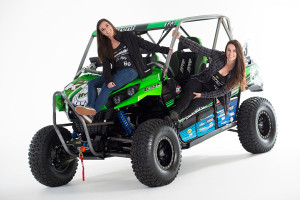 Sara qualified the only 800cc to compete in the UTV Class Saturday the 4th for a impressive 20th start position against 46competitors that day and 70 Total entrants in class thus far. The Teryx Girls Kawasaki Teryx was build specifically for the King Of the Hammers by IMG Motorsports, but a large percentage of stock parts were retained on the race side-by-side due to the proven strength and performance of the Kawasaki Teryx.
Fans can watch the Teryx Girls race live on Wednesday, February 7 at www.ultra4racing.com/live or follow along on Facebook at www.facebook.com/TeryxGirls > Hashtag #TeryxGirls on social media sites.