The first marathon leg of the competition, L3 – Rallye Aïcha des Gazelles 2016  will span two days, leaving the bivouac EL BEÏDA and finishing in IZOUGGUERHN.   Part of the ongoing coverage of the 26th edition of the Rallye Aïcha des Gazelles du Maroc  – the all-woman, off-road rally raid that brings women between the ages of 18 and 65 from more than 30 different countries together in the Moroccan desert.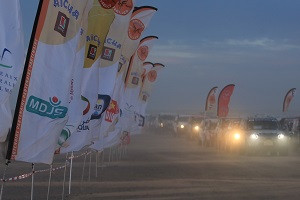 L3 – Rallye Aïcha des Gazelles 2016 [MARATHON]
Saturday, March 26, 2016 | Sunday, March 27, 2016
All teams made it back from the L2 course to prepare for the marathon 2-day adventure awaiting them in L3 – Rallye Aïcha des Gazelles 2016. The next two days, the teams will be covering over 230 km in complete autonomy, 14 CPs, and camping out in the desert overnight with no mechanical assistance.     The beginning of the marathon will be all about crossing the 20 km sprawling sand dunes of ERG CHEBBI.   Some as high as 200 meters, the Gazelles have 3 possible routes to choose from to cross the dunes:
Route X:  The 'Expert' course, mandated for those in the expert class and an option for others who dare, faces walls of sand and check points at high peaks that will prove to be daunting to obtain.  They will have to circle the bases and find ways to climb the dunes to advance.
Route Y:  Passes very close to the highest peaks, but proves easier to navigate.  The terrain is more rugged, and will get more challenging through the day.
Route Z:  The least intimidating of the 3 routes,  sticking to the feet of the dunes.  Perhaps the best option for less experienced Gazelles, as it has less steep dunes and shallower hallows, it still presents the challenge of lots of sand to face.
All routes will have to clear with enough time to cross the soft sands as they exit the dunes to the last checkpoint of day 1, setting up camp in the open bed of sand for DAY 2.
On Sunday, they will face  Oued Rhéris, an almost 6 kilometres wide ephemeral river bed that can remain dry for decades at a time or suddenly flood following heavy rains  – with huge cracks and crevasses to navigate, and wet zones that will stop any vehicle in its tracks.
After the oued, a wide plain with very few landmarks and 30-kilometer long headings leads to an area that some call Gazelles Hell.  The map of this area is strangely sparse and the features are not easy to identify for navigators, it will be hard to find their CP in order to continue their route.
EL BEÏDA / IZOUGGUERHN – Ideal distance 230 km – Estimated time 18:00 – 14 CPs  (2 day – MARATHON)
DAY 1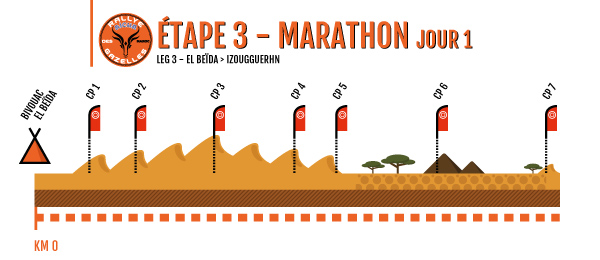 Day 2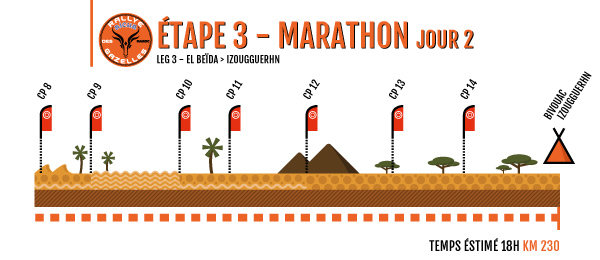 Follow along live:  http://www.rallyeaichadesgazelles.com/en/Rally/2016/live/