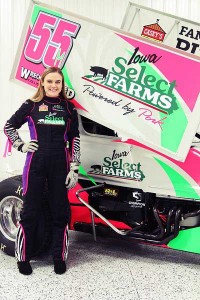 McKenna Haase isn't your average teenager.  The 18 year-old Des Moines, Iowa native  shows poise and savvy beyond her years.   On the eve of her high school graduation, where she would walk at the head of her Carlisle High School class with prestigious valedictorian honors, McKenna Haase would add a historic win at century-old Knoxville Speedway to her already impressive career.     Drive, passion and razor-sharp talent can all but guarantee the name McKenna etched just the first of a long list of memorable highlights for the record books.
Mall Encounter inspires Racing Career
For most young girls, a trip to the mall may inspire her growing fashion sense, but for McKenna, a chance encounter at a mall in Tennessee would serve as the spark that would ignite her racing passion.
I became interested in racing when I met Kasey Kahne in a shopping mall in Tennessee and began following racing. I also watched one of my cousins race in Oklahoma and continued to follow the sport."
Haase's encounter with NASCAR star Kasey Kahne so deeply impacted her that she began the difficult task of convincing her parents – who had no racing ties – to allow their daughter to participate in a sport they disliked.   No easy task, McKenna names this as one of the toughest hurdles in her young career.   But, after much prodding, they finally conceded and allowed McKenna to begin racing at the Karting level.
I raced at Slideways Karting Center for two years before getting my own racecar after many years of trying to talk my parents into it.   I think early on my biggest roadblock was talking my parents into allowing me to be a part of a sport they weren't very fond of. I felt like we were always arguing over whether or not I could go to the races, and then later on, get a racecar."
Without family racing knowledge, McKenna and her father would rely on driving techniques she would pick up studying in-car camera videos and other live racing events they attended.   She put these techniques to practice at public karting facilities, honing her early skills behind the wheel.
Moving up for McKenna Haase
From there, she began her trek up the ranks.  Beginning in 2010, she would make quick work to the top of the Box Stock Outlaw Karts category at English Creek Speedway (Knoxville, IA).   Haase would finish in the Top 3 of all the A-Main points races there, securing a top 5 A-Main finish, a B-Main win at the Got Milk? Nationals in Hartville, MO, and a 7th place finish at the Outlaw Dirt Kart Nationals (Knoxville, IA).
In 2011, she would return to the Box Stock Outlaw Kart class, besting her performances all-around with a 3rd place finish at the Got Milk? Nationals in Hartville,  another  3rd place finish at the Outlaw Dirt Kart Nationals, and 15 wins & 22 second place combined heat & feature finishes throughout the season.  All of this resulted in a runner-up finish for the 2011 English Creek Speedway points championship.
After quick success in the Box Stock Outlaw Kart ranks, McKenna would make the move in 2012 to Restrictor/Open Micro Sprints.  She would travel to a variety of tracks to compete, claiming two feature wins and 16 top ten finishes out of the 20 race schedule. She even claimed a 2nd place finish at the Warren County Speedway Nationals in 2012.
2013 would see McKenna in the running for the A-Class/Open/Outlaw Micro Sprints.   Of the 16 races she entered, 14 of them were top ten finishes, with a 1st place finish in the Tulsa Shootout heat race.
By 2014, she had graduated 305 Sprint Cars, competing in the Knoxville Championship Cup Series at Knoxville Raceway in Iowa.   She claimed 3 heat wins, 5 top ten finishes in her first 7 feature starts and finished 2nd overall, which was the highest finish from a female in the raceway's 100+ year history at the time.
That record wouldn't stand long, because on the eve of her high school graduation, McKenna captured her first 305 Sprint win at Knoxville Raceway, and sealed her name permanently into the record books with her historic win.
Balancing Life and Racing
With such success and dedication, it is easy to forget that Haase accomplished all of this while enrolled full-time in high school, participating in a variety of athletic sports, and maintaining a flawless 4.0 G.P.A.
Athletically, I've participated in a variety of other sports other than racing that has helped to keep me in shape for racing. I've always been a believer in having a good education and trying hard in school, and as I head to college to study finance, I've found that my business background has really helped me with sponsorships, marketing, and merchandise."
The seemingly tireless McKenna spends much of her free time in the office working on the business side of her racing career, handling the marketing promotions, merchandise sales, and accounting for the team.    When needed, she would also jump back into the shop to handle work on the racecar in preparation for upcoming race weekends.     Yet still, she set aside time in her bustling schedule for the gym to make sure she was physically on top of her game.
Racing is a full time job both on and off the track, but I wouldn't trade it for the world."
With all the attention and dedication that McKenna places on her career, it's easy to see why the young racer has attained such early success.    Her biggest obstacles have come with the increasing costs in moving her way up the ranks.  But she hasn't let anything slow her down, attributing her ability to overcome these hurdles to hard work, and a good support system.   Her focus on achieving her goals is paramount, something that has helped her avoid the occasional critic.
I have received criticism in the past but have always tried to steer clear of any drama or anything that might distract me from staying focused on my goals. I've found it's best to look at these situations as a way of making myself stronger and believe it's best just to stay out of any negative conversations."
Leading Young Women in Racing
McKenna was also recognized by the Women's Sports Foundation, partnering with their Project Podium program.
Last year I was partnered with the Women's Sports Foundation and Project Podium which was a really neat organization to be a part of and is filled with many women that are really inspirational. It's always neat to see younger girls look up to me (I wish we had more in the sport), and I love hearing when I've inspired someone else. I like to see a female's eyes light up when you talk about racing with them because they watched me race or something I did caught their attention."
With experience well beyond what her 18 years might lead you to believe, she is able to offer solid advice for young women wanting to enter the sport:
I have so many tips I could share that I've learned along the way, but I'll share a couple that I feel are most important.

#1- Be social- If you're truly passionate about motorsports, be involved in as much as possible in the sport. Don't be afraid to talk to new people, no matter their age or background, as you never know who you might meet. There are a lot of amazing people in the racing community, and I believe life's too short to pass up the opportunity to meet a great friend or connection. Get out there and experience everything motorsports has to offer and enjoy every single second of the ride.

#2- Be genuine- No matter what level you find yourself at in motorsports, be grateful to anyone who helped you get there and never pass up the opportunity to thank them. If you are genuinely humble and grateful in motorsports, people will respect you, and it makes them feel good knowing they support someone who truly appreciates what they've done for them.
As McKenna Haase continues into her next life chapter, her long term goal is to drive  a World of Outlaws sprint car and ultimately sees a career as a professional racecar driver for herself, wherever that may lead her.   One thing is certain, we have only seen the beginning of the McKenna Haase legacy.
We look forward to seeing many more historic firsts for this young fearless female, good luck to you, McKenna Haase!