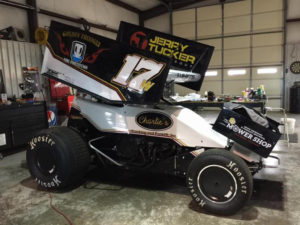 Harli White kicks of 2017 in Florida this weekend when she makes her debut appearance at East Bay Raceway Park in Tampa for the 16th annual Ronald Laney Memorial King of the 360s.
"I've watched a few videos of that track," she said. "By the looks of it, it will be close to some tracks we raced on in Australia recently. My goal is to just get laps and try to make the show each night. It's going to be a tough field of cars and a challenging track."
With a large 60-race schedule set for 2017, White previously announced that she will tackle the Lucas Oil ASCS National Tour for the first time in her career. While that will encompass the bulk of her events, White has more than a dozen additional races on the initial schedule of more than 60 shows across the country. Harli spent most of the offseason competing in Australia for the first time in her career, and she is hopeful that experience will lead to success at new venues this season, including the one this Thursday through Saturday.
White, who had never driven a 410 winged sprint car prior to the trip, competed in 13 races at three different tracks throughout December and January. She said the highlight was being a part of Team USA when it won the Origin of Speed event, which showcased eight states and territories, at Valvoline Raceway in Sydney, New South Wales, on Jan. 12.
"As a driver I have to be able to adapt to any track condition," she said. "Dry slick is what we were hoping for in Australia. A slick track in the states will be nice."
Regardless of the tricky track and stout competition, White said she is entering this season with a lot of confidence.
"We're on top of our game going into the first race," she said. "Everything is in line. It looks good and sounds good. We spent the hours preparing this year. I learned a lot racing in Australia during the offseason, hopefully running the different tracks will help me quickly figure out these new tracks I'll be going to."